See The Horse Flies (FRC602) and The Renegades (FRC605)
Banjo Player with "the Horse Flies" and "the Renegades"
I got into playing music at 14 in junior high, with a pack of like-minded hippie kids. (A typical beginning, eh?) Except the kind of music we were exposed to was string band and jug band music. Locally there were some very active bands in these genres, while on our record players we had Lou Reed, Bob Marley, the Beatles, the Stones, Doc Watson, Jimmy Rogers, Hank Williams and the Skillet Lickers. The doors were wide open in those days. We went to experimental free schools that fostered creativity and independence above all. So while we were being tutored and steeped in acoustic fiddle music by mentors we found in the local music scene, we were also sent early on the road to thinking for ourselves, making our own kind of music.
The Horse Flies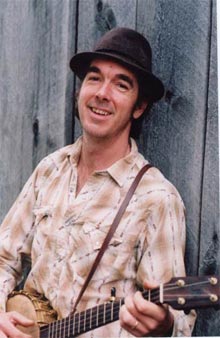 A bunch of us put together our own fiddle band in 1974 which carried me to the doorstep of my next band, The Horse Flies (Tompkins County Horseflies was the name we first used when we started doing fiddle music gigs locally in '79 or '80. The original band included Judy Hyman, Jeff Klaus, John Hayward and myself.) After a few years, we started reinterpreting the traditional compositions, adding our own music to some songs, or changing the words in others, and then writing our own compositions from scratch. I was one of the principal writers in that group. In 1985-86 we made Human Fly, our experiment in merging modern influences with traditional Appalachian fiddle music. People liked that record, and shortly thereafter we added a percussionist, Taki Masuko, and a keyboardist, Peter Dodge, to further experiment and to try to duplicate live the vision we had drawn in the studio for Human Fly.
Donna the Buffalo
At the same time this was going on, I continued to play with my childhood buddies. We found ourselves naturally morphing away from the traditional towards the original in yet another direction. This band was to become Donna the Buffalo.
Roots with a twist
My wife Jennie and I had met and married in '85; she too was writing and singing and playing, and was another a big influence on me. I liked having two bands but I was getting spread too thin, so subsequently I left Donna the Buffalo to be able to devote more energy to The Horse Flies. My arrangement of "Hush Little Baby," along with other songs from Human Fly, picked up some interest internationally, and we were signed by British indie label Cooking Vinyl. On a very small budget we made a bitchin' good video! MTV picked it up and we were featured on one of their music news shows. We toured with 10,000 Maniacs, and also the South African band, Johnny Clegg and Savuka. We toured Europe a number of times and played in Berlin before the wall came down. We played all over the States in the late '80's and made a record for MCA. We got dropped, and started moving back towards our roots in traditional music, but still with a twist.
Other projects
My desire to be in other creative music situations led me to play with various other projects during this time. I experimented with adding clawhammer banjo and my own style of playing to other traditional and non-traditional sounds like Irish (with Kevin Burke), Cajun (with Beausoleil), and bluegrass (Farm Report with Tony Trischka).
Natalie Merchant and 10,000 Maniacs invited me to play their final show with them on MTV Unplugged, along with David Byrne and Jerry Marrota, who plays with Peter Gabriel. (The show was later released as an album and video/DVD). The Horse Flies subsequently did two soundtracks for independent movie producer Jay Craven. Of the two, Where the Rivers Flow North enjoyed a pretty good ride in the theatres, video stores and on flights round the globe.
In the early 90s, my wife Jennie also left Donna the Buffalo, shortly after I had, and we started putting together an outlet for our ever-growing collaboration. She and I shared the writing and direction of Tin Roof, which featured the great rhythm section of Horse Flies bass player John Hayward and Ward Puryear on drums. I started working a new instrument, the tenor guitar, combining my banjo and electric guitar styles. The tenor guitar was to me the missing link that would galvanize my songwriting style into its current form.
Valleys and hills
In 1997 John Hayward, our beloved lifelong friend and musical cohort, succumbed to cancer. This was a dark stretch; we were all thrown into our lonely future without a bottom. Jennie and I were raising our two young boys, and we concentrated on them and on playing and writing together. The remaining Flies met and played casually once in a while. We licked our wounds.
Then things got busy again. In spring 2000, Natalie Merchant hired Judy Hyman and me to support her musically in an endeavor to merge her pop band with traditional fiddle music. After six weeks on the road with Natalie, I rejoined Donna the Buffalo as their keyboardist and banjo dude for a year. We toured on our own and played backup band to Peter Rowan and Grammy-award winning Jim Lauderdale, and jammed with Vassar Clements, on stage a few times.
Since I left Donna the Buffalo, I've been busy. I've been pursuing my own music, releasing a solo CD and writing material for another one. Jennie has re-included me into her musical dream; she's been touring solo, with me, with Gabe Tavares, and with her full band to promote her most recent CD Sing Desire.
I've had some other old-time side groups along the way, including the Renegades and the Improbabillies, in addition to Ti Ti Chickapea (avant garde improv trad-originals with Hank Roberts and Eric Aceto). I did studio work with Mary Lorson and Billy Cot, the Samples, John Doyle and Jim Lauderdale, among others. Along the way did a stint off-Broadway with famed dance troupe Second Hand Dance.
I still teach banjo and fiddle, and am learning how to use a letter press.
Whatever's next, I'm ready.