New CD: Strawberry McCloud – Bloomington Breakdown – FRC749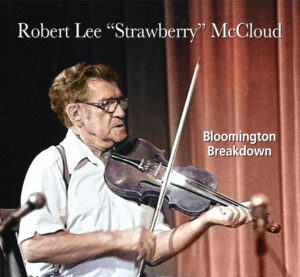 Old-time fiddling was a vibrant, mixed-race tradition in the hands of Robert Lee "Bob" or "Strawberry" McCloud (1907-80). His repertoire and style are rooted in east central Kentucky (Clark County), where he lived for 30 years before relocating to southern Indiana.
He plays many traditional fiddle tunes, including Kentucky classics such as "New Money" and "Martha Campbell." But his style seems rooted in the couple dance-oriented (foxtrot, two-step, shimmy), racial boundaries-blurring blues, rags, and popular songs of the 1920s-early '30s. These pieces, such as "Frankie and Johnny," "Wang Wang Blues," and "Silver Bell," are well-represented here. Stylistic traits (affected by losing the use of his left little finger in a construction accident) include emphasis on the off-beat, crooked timing, staccato notes, slides, and high-string tremolo and blue notes, always in standard tuning.
Doc Roberts was a mentor and friend; and Strawberry played bass with Clayton McMichen's Georgia Wildcats. About 1935, he became a heavy equipment operator and soon moved to Indiana. Our recordings date from his retirement, 1975 to '78. They were made with stellar younger musicians on banjo, guitar, bass, and piano at his home, a radio studio, and folk festivals. For complete personnel and collector listings, expanded track notes, and articles see the CD page. —Teri Klassen
Just got my copy, and it is great! Strawberry's fiddling is wonderful, backed up by excellent young Bloomington musicians who were used to playing with him and could follow the quirks of his tunes. — Brad Leftwich
Great CD, and long overdue! Strawberry was a giant of a fiddler. In my opinion he was a far more interesting and expressive musician than his compatriots Doc Roberts and Clayton McMichen. — Andy Cahan
---
Now Available: The First of the NAT Collection Box Set (5 CDs)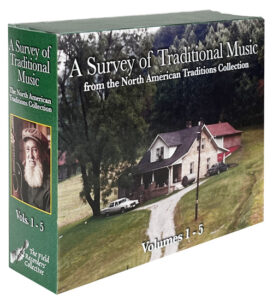 Over a span of nearly four decades, a small group of friends, the North American Traditions Group, traveled over large swaths of the Appalachians, the Canadian Maritimes, the Ozarks, and the American West, recording many hundreds of hours of traditional music. Styles heard in the NAT collection range from unaccompanied ballads to vocal quartets; virtuoso fiddle solos to string bands; blues to gospel to topical songs. This is the first box set of three and includes the first five CDs of this monumental collection: From British Tradition, A Musical Melting Pot, Songs of Melancholy and Sorrow, The Anglo-African Exchange, and Grown on American Soil.  Specially priced at $70 plus shipping in the continental US.  MORE INFO>>

---
Harold Hausenfluck (1952-2023)

We are sorry to hear that Harold Hausenfluck passed away on July 9. Harold did a lot for old-time music during his 71 years in the world: He was a teacher, a promoter and an incredible musician. Blind from infancy, he picked up old-time music by ear at the end of the 1960s and was winning blue ribbons at the Galax Old Fiddler's Convention shortly thereafter.
Heavily influenced by Glen Smith of Hillsville and Joe Birchfield of the Roan Mountain Hill Toppers, Harold was a virtual repository of mountain tunes and styles. Old-time fans who were active in the 70s and 80s will remember Harold's recordings on banjo and fiddle for the Heritage label, many of them with banjo player Abe Horton of Fancy Gap, VA. He also designed his own training courses and distributed them on cassette, before a stroke in 1999 prevented him from playing stringed instruments.
Harold spent the last decades of his life in assisted living, where he ran his own old-time radio station and played the harmonica (his original instrument). Friend and former student Trish Miller said that, "His parting words were for us all to 'play our hearts out.'"
The FRC has two volumes of his music — one of his fiddle recordings and one for his banjo recordings — pulled in part from his Heritage records, but also from home- and in-air recordings. You'll find him on the YouTube, too, cajoling remarkable performances out of musicians that might have been unknown but for Harold.
I hope that the [Field Recorders' Collective] can leave a legacy for future travelers, repaving the old time highway to reconstruct this music with the old timers as guides. —Ray Alden, 2003
Three New CDs Recorded by Tom Carter & Blanton Owen in 1973-4
Luther Davis – FRC745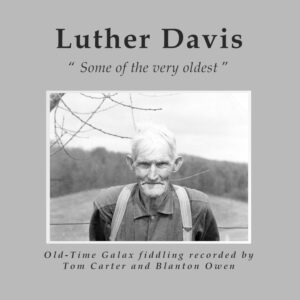 We met Luther Davis (1887-1986) in the spring of 1973. He was 86 and living with his wife, Alverda (Verd), in the Delhart/Baywood section of Grayson County, Virginia, just west of Galax. Joe Caudill, an equally ancient fiddler from just over the North Carolina line in Alleghany County, had told us that we had to hear Luther Davis play, that Luther knew all the old tunes. And he certainly did. During the next year, Blanton and I visited Luther often, each time finding him remembering more and more of the tunes he knew as a young man growing up in the music. Luther and the Caudill boys, Joe and his older brother Hus, spent long hours listening to, learning from, and playing with older local fiddlers like Emmett Lundy (1864-1953), Sidney Caudill (1852-1936), and Isom Rector (1858-1926) and his brother Fielden (1857-1929). The cuts on this CD catch Luther just starting to play again after years working and raising a family. But the magic was still there, and what you hear here is the old style Galax fiddling at its very best. Thank you again, Luther Davis.
I must say that fieldwork is always a hit or miss proposition. You never know what's on the other side of the door. A welcoming smile, a gruff refusal, good music, bad music. Every now and then you're lucky and meet a Luther Davis. As those who knew him can attest, Luther was indeed one of a kind. A character, a wit, a performer, a charmer, a musician's musician. But always unforgettable. — Tom Carter
Hus Caudill – FRC747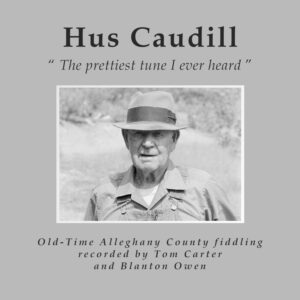 We met Huston "Hus" Caudill (1884-1986) through his younger brother, Joe (1888-1980), who was a good fiddler and someone we knew from earlier fieldwork in the area. The Caudills, nearly all of whom were musicians, lived along the North Carolina/Virginia border just south and west of Galax. Their father, Sidney Caudill (1852-1936), was a fiddler of local renown, often compared to his contemporary Emmett Lundy (1864-1953), who lived not far away, in Delhart, Virginia.
Hus grew up playing the fiddle, and of all the Caudill children probably learned the most from Sid. This is significant because in many ways Hus's playing bridges the gap between the older, more individualistic style of his father's generation and the newer, more formulaic, banjo-fiddle ensemble music that was gaining popularity in and around Galax during the first years of the 20th century. Hus played both the old and new, and both are evident on this recording. He also clawhammered and two-finger picked the banjo, but an injury to his right hand shortly before we started visiting made it hard for him to play more than a few tunes. So it is the old melodies, the Sid Caudill-Emmett Lundy fiddle tunes, that form the bulk of the music on this album. A gentle man, we always looked forward to our time with him. Thank you again, Hus Caudill. — Tom Carter
Luther Davis & Hus Caudill – FRC750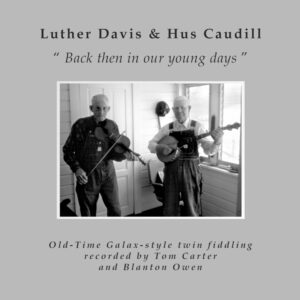 Luther Davis (1887-1986) and Huston "Hus" Caudill (1884-1986) grew up playing music together. This would have been in the first two decades of the 20th century. Luther lived in the Meadow Creek Section of Grayson County, Virginia, and Hus over in the Vox community of Alleghany County, North Carolina. Though in different states, they grew up within walking distance of each other, and both recalled meeting up at the homes of older musicians like Isom Rector (1858-1926), his brother Fielden (1857-1929), and Emmett Lundy (1864-1953), often in all-night sessions. Blanton Owen and I recorded them in 1973 and 1974 as part of a year-long study of traditional music on the central Blue Ridge. We visited them many times, but always separately, one time Luther, and another time Hus.
Then one day it dawned on us that they each had stories of playing with and learning from one another as young men, and visiting the brothers Isom and Fielden Rector, who played double fiddles, often with Fielden playing a low melody while Isom stayed high. We wondered what that sounded like, informal jamming in the old days, and how much of the Rectors' style had rubbed off on Luther and Hus. There was only one way to find out. We drove Hus up to Luther's and turned on the tape recorder. They hadn't played together in decades, and really hadn't even played much alone either, quitting music as family and work responsibilities took hold. The result, though, was one of our most memorable sessions, with the two men, tentative at first, slowly falling back into their roles from 50 or 60 years earlier. They are mostly in unison, but occasionally one, usually Hus, will play a low melody. What is most remarkable is hearing old friends coming together and feeling some of that early youthful energy. We hope you like it as much as we do. — Tom Carter
---
Yvon Mimeault – Y'était temps ! | It's About Time – FRC742
Reissued from the original 1998 recording / Réédition de l'enregistrement original de 1998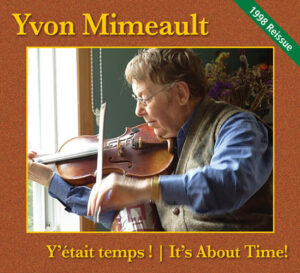 Yvon Mimeault was born in Mont-Louis in the Gaspésie, Quebec in 1928. His first contact with the fiddle was in a lumber camp on the North Shore. When he returned home, he made himself a fiddle from memory out of a piece of wood from a pigpen! On this recording, Yvon plays the reels du Forgeron and du Pendu on that same fiddle he made 50 years ago. A little later, he discovered that his father, Odilon, played fiddle, but that he had hidden his fiddle the day he got married, for fear that it would be a bad influence on his sons! Several months later, Yvon became the regular fiddler on a radio show in Matane and also played for local dances (square sets and quadrilles) for a number of years. He is certainly one of our greatest fiddlers. With his rhythmic and dynamic style, he presents a varied and original repertoire which he learned from his father, relatives and musician friends with whom he has been playing music for over 50 years. — Guy Bouchard
Yvon Mimeault est né à Mont-Louis en Gaspésie en 1928. Il s'inite au violon dans au camp de bûcheron de la Côte-Nord et, à son retour au village, se fabrique lui-même un violon à partir d'une 'planche d'enclos à cochon'! Sur cet enregistrement, Yvon joue les reels du Forgeron et du Pendu sur ce même violon qu'il a fabriqué il y a 50 ans. Il découvre alors que son père Odilon est un habile musicien qui, par crainte de voir ses fils consacrer trop de temps à la musique, avait caché son violon depuis le jour de son mariage! Quelques mois plus tard, Yvon est devenu le violoneux régulier d'une émission radiophonique sur les ondes de la radio à Matane ou il fera danser des quadrilles et des sets carrés pendant de nombreuses années. Il est certes l'un de nos grands violoneux et il nous présente aujourd'hui dans un style rythmique et dynamique, un répertoire varié et original hérité de son père, de sa paranté et de ses amis musiciens et qu'il a acquis au cours des cinquante dernières années. — Guy Bouchard
---
Bill Hensley, Wayne County Banjo Player & Ballad Singer – FRC734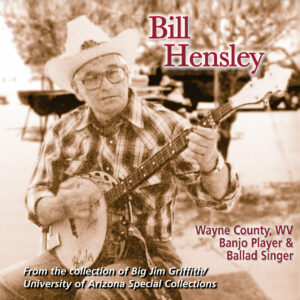 Bill Hensley (1923-1984) was a remarkable banjo player and ballad singer from Wayne County, West Virginia. He grew up in a musical family, listening as his dad sat on their front porch playing banjo and entertaining passersby on the road across the river. Bill's hard-driving banjo style employs flurries of pull-offs and a wide range of unusual tunings. He put his own stamp on song lyrics, too, often adding a surprise twist to a ballad's ending. (His House Carpenter's ship collides with an iceberg, and his Pretty Polly concludes with the original verse: 'Polly, pretty Polly, has gone to her rest, poor little Willie is in hell now I guess.') In 1973, Bill moved to Tucson, Arizona, where he met and mentored Southwest folklorist and banjo player Big Jim Griffith. This release provides a window into Bill's unique artistry and musicianship through a diverse selection of ballads, songs and instrumentals recorded by Jim Griffith between 1981 and 1984. – Roman Barten-Sherman
---
The Field Recorders' Collective is proud to present…

Over a span of nearly 4 decades, a small group of friends (the North American Traditions Group) recorded many hundreds of hours of traditional music over large swaths of the Appalachians, the Canadian Maritimes, the Ozarks and the American West. Styles within the NAT collection range from unaccompanied ballads to vocal quartets; virtuoso fiddle solos to string bands; blues to gospel to topical songs. >>More info
15 Volumes* plus a Preview album
Over 530 tracks
More than 350 (65%) previously unissued tracks
Over 150 artists
Well over 2000 pages of downloadable contextual notes, including rare photos & other graphics
30 Great selections from the NAT Archive, two representing each volume of the Survey (but not duplicated within the Survey).
Volumes 1-5 are planned for released in early 2022. Volumes 6-15 will follow later in the year.
For more information about the North American Traditions Collection, please click here.
---
Vesta Johnson (May 10, 1922-March 5, 2021)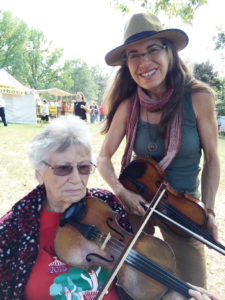 Vesta Johnson was like my third grandmother and best girlfriend all in one. I was her apprentice, but also her good friend. We spent time together playing tunes and traveling to dances, gigs, and festivals. Vesta had a great sense of humor and we often laughed together. She had a solid and wise perspective that only one who has lived a long life through many struggles and hardships can attain. Her family always came first and she was very supportive of those that she loved. She was not one to mince words and she told it like it is. I had the utmost respect for Vesta. She persevered in her love of music and fiddling during a time when it was not made available to women. Her unique and smooth bowing style never failed to get the dancers up on their feet and out on the dance floor. I am forever grateful for her friendship and for all of the tunes and stories that she passed on to me. I, in turn, will pass on the tunes to others. These are treasures that will be preserved. —Ellen Gomez
Listen to her music: Vesta Johnson – FRC715
Vesta Johnson, Missouri's Well-Kept Secret by Bob Bovee
---