Musicians entering the scene today will never get to spend time with the older musicians; they are now almost all gone. If you ask musicians new to old time music, "Where did you learn that tune?" many will say, "From so-and-so at such-and-such a festival." If you are familiar with the source, often their version seems completely removed from the source, watered down and homogenized. John Cohen once told me that sometimes the most radical thing you can do to move ahead is to go backwards. I hope that the [Field Recorders' Collective] can leave a legacy for future travelers, repaving the old time highway to reconstruct this music with the old timers as guides. In the end, I can only say it was a treasure for me to be shown this direction by them. —Ray Alden, 2003
Donations
You can now make a tax-deductible donation to Field Recorders' Collective. Just click the Donate button at the right on this page to make a donation of any amount securely through your credit card.
New Releases for 2019
We are pleased to announce that The Field Recorders' Collective, Inc. has just released two new recordings, as listed below. They can be purchased as CDs here at our website and will be soon available as downloadables at fieldrecorder.bandcamp.com. Please visit our Store Page to find all our issues, and check out the online additional notes and articles we post for many of our CDs.
Vernon Spencer of Big Springs, Kansas – FRC726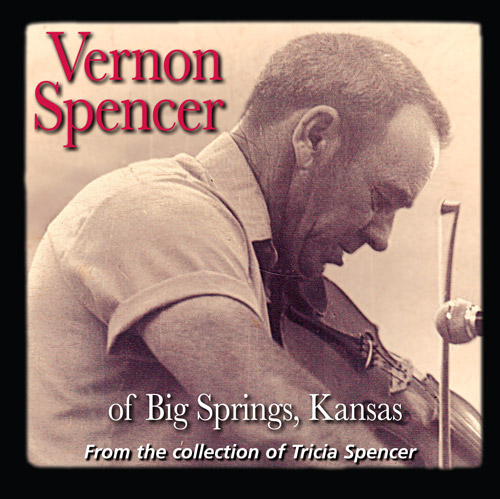 Vernon Spencer ran an old Skelly gas station between Topeka and Lawrence in the tiny town of Big Springs, Kansas. It was here that you could fill up your tank and get some basic essentials, or Vernon would get his fiddle off of the wall and have a tune or two. The Spencer family moved from LaRue County, Kentucky to Douglas County, Kansas in 1857 and have been there ever since. The Spencers have been making music in the county for at least five generations and these recordings, made at home and at fiddle contests, are a window into one family making music together in rural Kansas in the 1960s and '70s. – Howard Rains
---
Jim Shumate: Pioneering Bluegrass Fiddler – FRC727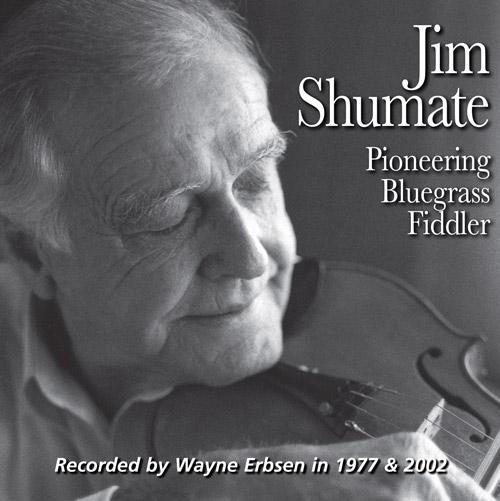 Born in Wilkes County, NC, Jim Shumate (1921-2013) played with Bill Monroe in the mid-1940s and was the original fiddler for Flatt and Scruggs's band, the Foggy Mountain Boys. The four tracks that he recorded with Lester and Earl are some of the most revered songs in the entire bluegrass repertoire. He also devised many of the standard licks that are still used by bluegrass fiddlers the world over. In 1974, just before I moved to Hickory, NC, a friend advised me that Jim Shumate lived there and strongly suggested that I look him up. Soon after my move I spotted Jim on the street, and he agreed to give me lessons. It didn't take long for us to become fast friends. Even though Jim hadn't been a touring musician in almost thirty years, I found that his fiddling was in fine form and at 56 years old he seemed to be at the top of his game. Jim didn't have a band at that time, so with his blessing I invited banjo player Marc Pruett and guitarist Albert Maples to join a recording session at my house in Hickory. Twenty-five years later, Jim sat down with me for an interview, portions of which are included here. I am beyond excited that this recording is now available. Finally, a new generation of bluegrass fans will get to hear the real deal. – Wayne Erbsen
---
---
2017 Releases
Lowe Stokes, Georgia Fiddler – FRC723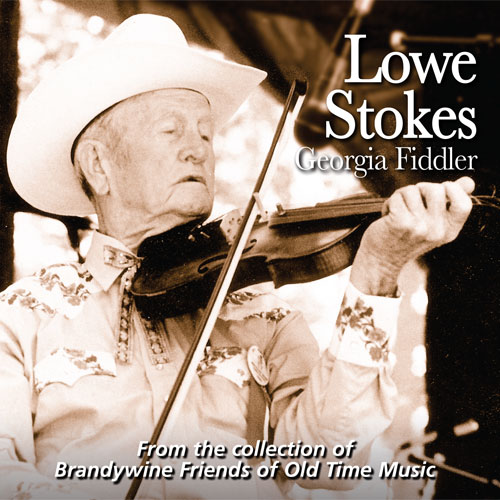 One of the highlights of my musical career was playing on stage with Lowe Stokes, one of my musical heroes. He was at the very heart of the North Georgia, multi-fiddle band sound that had so captivated us in the Highwoods and many others in the early days of the stringband revival. Stokes recorded extensively in the 1920s and early 1930s under his own name, as a member of the North Georgians, the Hometown Boys, the Dill Pickles, and most notably as the lead fiddler for the Skillet Lickers. In July 1982, when Lowe was 84 years old, he performed at the Brandywine Mountain Music Festival. As his pal Bert Layne announced, he sounds "almost as good as he ever did." This is especially impressive since Lowe lost his bowing hand in an accident in 1930. He was able to make this great music using a prosthetic device on his right wrist and a rig on his fiddle to keep the bow perpendicular to the strings. So enjoy these selections from a true master and seminal figure of old-time music. – Mac Benford
---
Alvis Massengale – Mississippi Fiddle Music – FRC724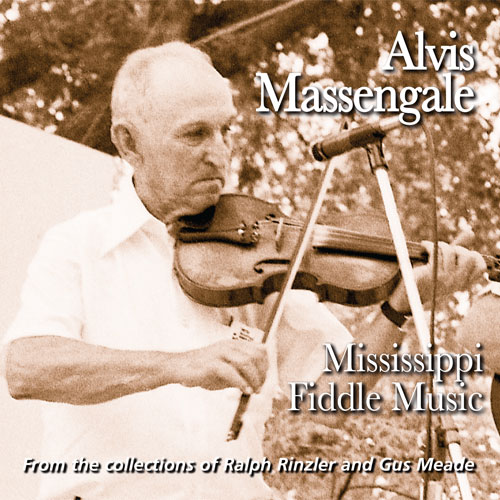 Mississippi fiddler Alvis Massengale ably led the Newton County Hillbillies on their six 78rpm recordings in 1930. Although he continued to play locally, we know little of him until the early 1970s when he made two sets of field recordings, one for Gus Meade and a later one for Howard Marshall in preparation for the 1974 Smithsonian Folk Festival in Washington D.C. which featured Mississippi musicians. Then in his mid-seventies, he was still playing impressively well, as you can hear in these recordings. Several of his tunes are unique, such as "Sebastapol" for which we have no other source. With pleasure we bring these recordings to a larger audience. – Harry Bolick
---
Early Upchurch – Gospel Voice of Mount Airy, NC FRC725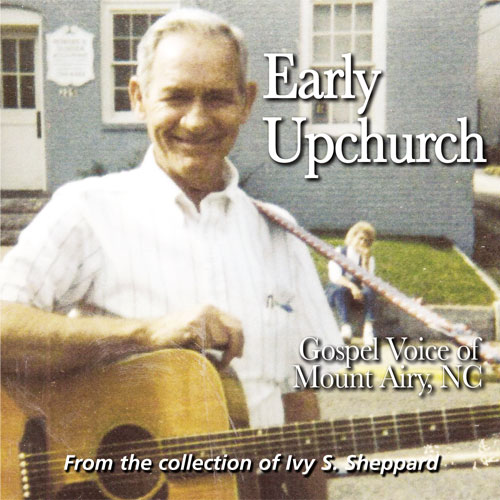 There's something special about Early Upchurch (April 22, 1925-January 1, 1990) – the gospel voice of Mount Airy, North Carolina. I remember dropping down the needle one afternoon at WPAQ during the Surry Spotlight and I couldn't believe what I was hearing. That pure voice so reminiscent of Roy Acuff went right straight to my heart. He had regular radio programs on WPAQ, WBOB, and WSYD with a notable list of guests including Bill Monroe and Carl Story, and traveled this country playing good ol' gospel. I immediately made it my mission to find copies of every known recording of Early Upchurch, and with the help of his daughter Kathy, and son Bobby, we've done just that. We hope you'll enjoy these selections from his ARC recordings and radio shows, and are thrilled and delighted that the Field Recorders Collective is helping get his great music out to the world to be heard once again.– Ivy S. Sheppard
---
Digital Downloads
FRC offers quality digital downloads of our music. We have all of our CDs available for downloads. There is a Listen/Download button in the FRC store. If you are only interested in downloads, you can go directly to our Bandcamp page.
Read about FRC in the Register-Herald (Beckley, WV):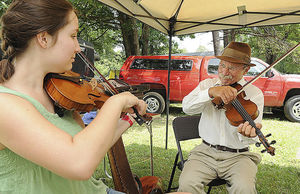 If no one steps up to preserve our culture, it could be lost forever. That's where the Field Recorders' Collective comes in. Stationed at a booth at the Appalachian String Band Festival in Clifftop, Dave Hall and Ambrose Verdibello are selling CDs of artists that you've probably never heard of. These are 'the old-time masters,' though, as the duo put it. More>>
"All things pass; all that lives must die.  All that we prize is but lent to us, and the time comes when we must surrender it.  We are travelers on the same road that leads to the same end."
The Field Recorders' Collective, Inc. is a non-profit organization dedicated to the preservation and distribution of noncommercial recordings of traditional American music, emphasizing material that is unavailable to the general public.
The Field Recorders' Collective, originally formed with five collectors, is now a much larger group of collectors who have generously agreed to share their field recordings with the old time community.  The collectors and the musicians that they recorded have traveled parts of the same old time music road.  Members of the collective, just as did the musicians they recorded, wish to share both the tunes and the creative, individual styles that developed in isolated communities with others seeking their own right of way on the road.
Many of the musicians featured on the FRC's CDs have been heard only sparingly on commercially-released recordings, and very few of these actual performances have previously been available commercially.  Most of the musicians recorded by the collective have passed on, and in many cases we are in touch with their surviving relatives.  We take satisfaction in sharing with the artists' families (as well as with the collectors) a portion of the profit from the sale of these recordings.  Judging from the letters of appreciation that we receive from family members, both the profit-sharing and our commitment to honoring these musicians' artistry are greatly appreciated.
Save
Save
Save
Save
Save
Save
Save
Save
Save
Save
Save
Save
Save
Save