Musicians entering the scene today will never get to spend time with the older musicians; they are now almost all gone. If you ask musicians new to old time music, "Where did you learn that tune?" many will say, "From so-and-so at such-and-such a festival." If you are familiar with the source, often their version seems completely removed from the source, watered down and homogenized. John Cohen once told me that sometimes the most radical thing you can do to move ahead is to go backwards. I hope that the [Field Recorders' Collective] can leave a legacy for future travelers, repaving the old time highway to reconstruct this music with the old timers as guides. In the end, I can only say it was a treasure for me to be shown this direction by them. —Ray Alden, 2003
Donations
You can now make a tax-deductible donation to Field Recorders' Collective. Just click the Donate button at the right on this page to make a donation of any amount securely through your credit card.
TO OUR FRIENDS IN THE UK & EUROPEAN UNION COUNTRIES:
We regret that we have had to discontinue shipping physical CDs to the UK and EU countries due to the complex and costly VAT requirements recently established. We welcome our friends over there to consider purchasing FRC music as digital downloads on our BandCamp site: fieldrecorder.bandcamp.com
Now Available: The First of the NAT Collection Box Set (5 CDs)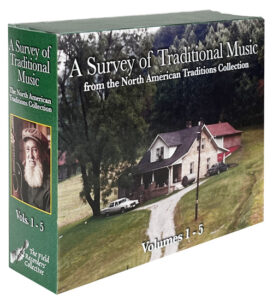 Over a span of nearly four decades, a small group of friends, the North American Traditions Group, traveled over large swaths of the Appalachians, the Canadian Maritimes, the Ozarks, and the American West, recording many hundreds of hours of traditional music. Styles heard in the NAT collection range from unaccompanied ballads to vocal quartets; virtuoso fiddle solos to string bands; blues to gospel to topical songs. This is the first box set of three and includes the first five CDs of this monumental collection: From British Tradition, A Musical Melting Pot, Songs of Melancholy and Sorrow, The Anglo-African Exchange, and Grown on American Soil.  Specially priced at $70 plus shipping in the continental US.  MORE INFO>>

---
New CDs – Available Now
Three New CDs Recorded by Tom Carter & Blanton Owen in 1973-4
Luther Davis – FRC745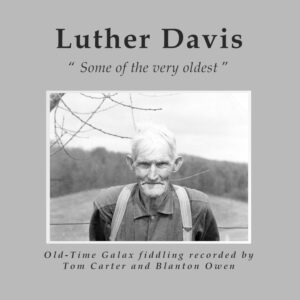 We met Luther Davis (1887-1986) in the spring of 1973. He was 86 and living with his wife, Alverda (Verd), in the Delhart/Baywood section of Grayson County, Virginia, just west of Galax. Joe Caudill, an equally ancient fiddler from just over the North Carolina line in Alleghany County, had told us that we had to hear Luther Davis play, that Luther knew all the old tunes. And he certainly did. During the next year, Blanton and I visited Luther often, each time finding him remembering more and more of the tunes he knew as a young man growing up in the music. Luther and the Caudill boys, Joe and his older brother Hus, spent long hours listening to, learning from, and playing with older local fiddlers like Emmett Lundy (1864-1953), Sidney Caudill (1852-1936), and Isom Rector (1858-1926) and his brother Fielden (1857-1929). The cuts on this CD catch Luther just starting to play again after years working and raising a family. But the magic was still there, and what you hear here is the old style Galax fiddling at its very best. Thank you again, Luther Davis.
I must say that fieldwork is always a hit or miss proposition. You never know what's on the other side of the door. A welcoming smile, a gruff refusal, good music, bad music. Every now and then you're lucky and meet a Luther Davis. As those who knew him can attest, Luther was indeed one of a kind. A character, a wit, a performer, a charmer, a musician's musician. But always unforgettable. — Tom Carter
Hus Caudill – FRC747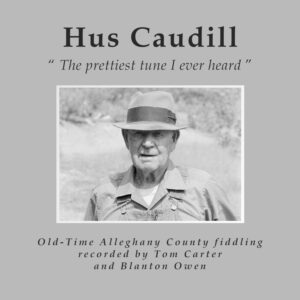 We met Huston "Hus" Caudill (1884-1986) through his younger brother, Joe (1888-1980), who was a good fiddler and someone we knew from earlier fieldwork in the area. The Caudills, nearly all of whom were musicians, lived along the North Carolina/Virginia border just south and west of Galax. Their father, Sidney Caudill (1852-1936), was a fiddler of local renown, often compared to his contemporary Emmett Lundy (1864-1953), who lived not far away, in Delhart, Virginia.
Hus grew up playing the fiddle, and of all the Caudill children probably learned the most from Sid. This is significant because in many ways Hus's playing bridges the gap between the older, more individualistic style of his father's generation and the newer, more formulaic, banjo-fiddle ensemble music that was gaining popularity in and around Galax during the first years of the 20th century. Hus played both the old and new, and both are evident on this recording. He also clawhammered and two-finger picked the banjo, but an injury to his right hand shortly before we started visiting made it hard for him to play more than a few tunes. So it is the old melodies, the Sid Caudill-Emmett Lundy fiddle tunes, that form the bulk of the music on this album. A gentle man, we always looked forward to our time with him. Thank you again, Hus Caudill. — Tom Carter
Luther Davis & Hus Caudill – FRC750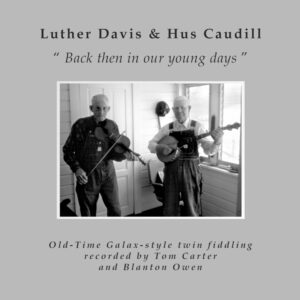 Luther Davis (1887-1986) and Huston "Hus" Caudill (1884-1986) grew up playing music together. This would have been in the first two decades of the 20th century. Luther lived in the Meadow Creek Section of Grayson County, Virginia, and Hus over in the Vox community of Alleghany County, North Carolina. Though in different states, they grew up within walking distance of each other, and both recalled meeting up at the homes of older musicians like Isom Rector (1858-1926), his brother Fielden (1857-1929), and Emmett Lundy (1864-1953), often in all-night sessions. Blanton Owen and I recorded them in 1973 and 1974 as part of a year-long study of traditional music on the central Blue Ridge. We visited them many times, but always separately, one time Luther, and another time Hus.
Then one day it dawned on us that they each had stories of playing with and learning from one another as young men, and visiting the brothers Isom and Fielden Rector, who played double fiddles, often with Fielden playing a low melody while Isom stayed high. We wondered what that sounded like, informal jamming in the old days, and how much of the Rectors' style had rubbed off on Luther and Hus. There was only one way to find out. We drove Hus up to Luther's and turned on the tape recorder. They hadn't played together in decades, and really hadn't even played much alone either, quitting music as family and work responsibilities took hold. The result, though, was one of our most memorable sessions, with the two men, tentative at first, slowly falling back into their roles from 50 or 60 years earlier. They are mostly in unison, but occasionally one, usually Hus, will play a low melody. What is most remarkable is hearing old friends coming together and feeling some of that early youthful energy. We hope you like it as much as we do. — Tom Carter
---
Yvon Mimeault – Y'était temps ! | It's About Time – FRC742
Reissued from the original 1998 recording / Réédition de l'enregistrement original de 1998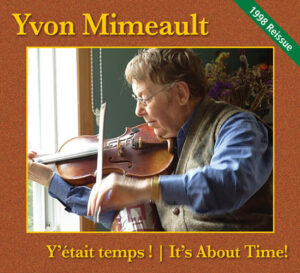 Yvon Mimeault was born in Mont-Louis in the Gaspésie, Quebec in 1928. His first contact with the fiddle was in a lumber camp on the North Shore. When he returned home, he made himself a fiddle from memory out of a piece of wood from a pigpen! On this recording, Yvon plays the reels du Forgeron and du Pendu on that same fiddle he made 50 years ago. A little later, he discovered that his father, Odilon, played fiddle, but that he had hidden his fiddle the day he got married, for fear that it would be a bad influence on his sons! Several months later, Yvon became the regular fiddler on a radio show in Matane and also played for local dances (square sets and quadrilles) for a number of years. He is certainly one of our greatest fiddlers. With his rhythmic and dynamic style, he presents a varied and original repertoire which he learned from his father, relatives and musician friends with whom he has been playing music for over 50 years. — Guy Bouchard
Yvon Mimeault est né à Mont-Louis en Gaspésie en 1928. Il s'inite au violon dans au camp de bûcheron de la Côte-Nord et, à son retour au village, se fabrique lui-même un violon à partir d'une 'planche d'enclos à cochon'! Sur cet enregistrement, Yvon joue les reels du Forgeron et du Pendu sur ce même violon qu'il a fabriqué il y a 50 ans. Il découvre alors que son père Odilon est un habile musicien qui, par crainte de voir ses fils consacrer trop de temps à la musique, avait caché son violon depuis le jour de son mariage! Quelques mois plus tard, Yvon est devenu le violoneux régulier d'une émission radiophonique sur les ondes de la radio à Matane ou il fera danser des quadrilles et des sets carrés pendant de nombreuses années. Il est certes l'un de nos grands violoneux et il nous présente aujourd'hui dans un style rythmique et dynamique, un répertoire varié et original hérité de son père, de sa paranté et de ses amis musiciens et qu'il a acquis au cours des cinquante dernières années. — Guy Bouchard
---
Bill Hensley, Wayne County Banjo Player & Ballad Singer – FRC734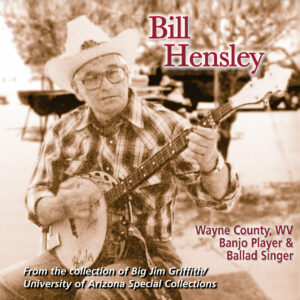 Bill Hensley (1923-1984) was a remarkable banjo player and ballad singer from Wayne County, West Virginia. He grew up in a musical family, listening as his dad sat on their front porch playing banjo and entertaining passersby on the road across the river. Bill's hard-driving banjo style employs flurries of pull-offs and a wide range of unusual tunings. He put his own stamp on song lyrics, too, often adding a surprise twist to a ballad's ending. (His House Carpenter's ship collides with an iceberg, and his Pretty Polly concludes with the original verse: 'Polly, pretty Polly, has gone to her rest, poor little Willie is in hell now I guess.') In 1973, Bill moved to Tucson, Arizona, where he met and mentored Southwest folklorist and banjo player Big Jim Griffith. This release provides a window into Bill's unique artistry and musicianship through a diverse selection of ballads, songs and instrumentals recorded by Jim Griffith between 1981 and 1984. – Roman Barten-Sherman
---
The Field Recorders' Collective is proud to present…

Over a span of nearly 4 decades, a small group of friends (the North American Traditions Group) recorded many hundreds of hours of traditional music over large swaths of the Appalachians, the Canadian Maritimes, the Ozarks and the American West. Styles within the NAT collection range from unaccompanied ballads to vocal quartets; virtuoso fiddle solos to string bands; blues to gospel to topical songs. >>More info
15 Volumes* plus a Preview album
Over 530 tracks
More than 350 (65%) previously unissued tracks
Over 150 artists
Well over 2000 pages of downloadable contextual notes, including rare photos & other graphics
30 Great selections from the NAT Archive, two representing each volume of the Survey (but not duplicated within the Survey).
Volumes 1-5 are planned for released in early 2022. Volumes 6-15 will follow later in the year.
For more information about the North American Traditions Collection, please click here.
---
Vesta Johnson (May 10, 1922-March 5, 2021)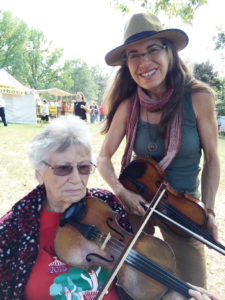 Vesta Johnson was like my third grandmother and best girlfriend all in one. I was her apprentice, but also her good friend. We spent time together playing tunes and traveling to dances, gigs, and festivals. Vesta had a great sense of humor and we often laughed together. She had a solid and wise perspective that only one who has lived a long life through many struggles and hardships can attain. Her family always came first and she was very supportive of those that she loved. She was not one to mince words and she told it like it is. I had the utmost respect for Vesta. She persevered in her love of music and fiddling during a time when it was not made available to women. Her unique and smooth bowing style never failed to get the dancers up on their feet and out on the dance floor. I am forever grateful for her friendship and for all of the tunes and stories that she passed on to me. I, in turn, will pass on the tunes to others. These are treasures that will be preserved. —Ellen Gomez
Listen to her music: Vesta Johnson – FRC715
Vesta Johnson, Missouri's Well-Kept Secret by Bob Bovee
---
Recent CDs
John Rector – Galax Fiddle & Banjo – FRC737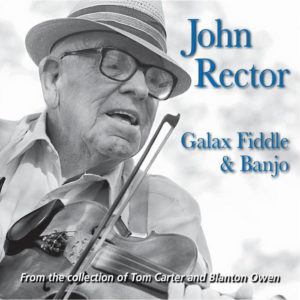 John Rector was an influential old-time fiddle and banjo player from Galax, Virginia. These recordings were made between January and June of 1974 by Tom Carter and Blanton Owen, during a period when they documented and preserved the work of many wonderful old-time musicians. He was also recorded by John Lomax in 1937. On this disk, you'll hear Mr.Rector play many of his favorite tunes and discuss his influences. Mr.Rector had a unique sound and style and was a frequent winner at the Galax Fiddlers' Convention. Special thanks to John's granddaughter, Nancy Atakan, for her permission and help with releasing this project. – Kilby Spencer
John Dee Kennedy of Pawnee, Oklahoma – FRC738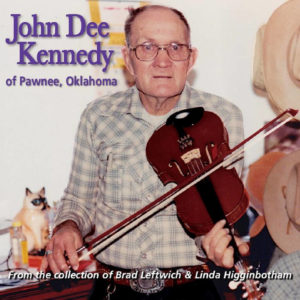 John Dee Kennedy (1914-1997) was a self-effacing man who, in his prime, was considered by many to be the best breakdown fiddler in Pawnee and Osage counties, Oklahoma. In a generation where most of his contemporaries were playing Western swing, bluegrass, or Texas contest style fiddle, John perpetuated an older family and community tradition that can be traced through the mountains of Arkansas all the way back to eastern Kentucky in the 19th century. These field recordings were made by Linda Higginbotham and Brad Leftwich at John's home in Pawnee, Oklahoma, from 1982-1985. – Brad Leftwich
Albert Hash – Volume 3 – FRC733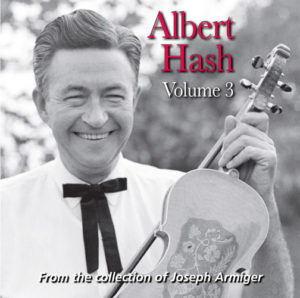 This is the 3rd collection of fiddling from the Whitetop, Virginia old-time fiddler, Albert Hash (1917-1983). These recordings were made by Joseph Armiger in 1976 and feature Albert playing solo on many of his favorite tunes. He plays through many of the pieces he learned from recordings of his favorite fiddler, G.B. Grayson. After Grayson's passing, Albert played for a time with Henry Whitter, Grayson's recording partner. For more music by Albert, please see FRC411 and FRC707. – Kilby Spencer
H.K. Silvey – Fiddling from Ozark County, MO – FRC729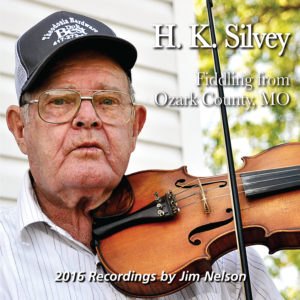 H.K. (Hubert K.) Silvey is one of the last old-time Ozarks fiddlers of his generation, raised in the milieu where fiddling and square dances were a part of everyday life. Born in 1933 on a farm near Longrun in Ozark County, Missouri, H.K. grew up hearing his uncle Jess Silvey play for music parties and dances and learned to back him up on guitar. At age 15, H.K. himself began to play fiddle in the traditional manner—that is, by sneaking his uncle's fiddle out of the case while he was gone. Soon after the secret was out, he joined his Uncle Jess and other local musicians at dances and music parties. Another musician who influenced H.K. was Lonnie Robertson, from Theodosia, MO, who played professionally on radio stations across the Midwest. In 1953, H.K. went to work as a mechanic in the aerospace industry, a career that took him to Louisiana, New Mexico, and Colorado, playing in contests, and with country and bluegrass bands. He returned home in 1973 and resumed farming and fiddling around the community.
I met H.K. 25 years ago at a Monday night music party in the home of Aileen and Lester Adams in McClurg, MO, and right away I noticed his energetic, smooth bowing and his repertoire, which varied from what some of the other fiddlers played that night. It is our hope these 2016 home sessions capture the feeling of what I heard that evening long ago. – Jim Nelson
The Leake County String Band 1969-1991 – FRC730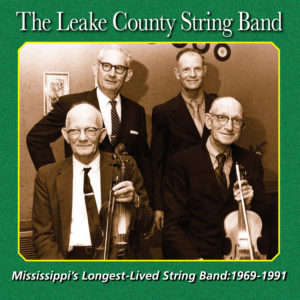 The Leake County String Band has the distinction of being the longest lived of all of the Mississippi string bands. Except for concerts during its most visible period in the 1970s and a single recording in 1971, the band played close to home, mostly socially in their homes, nursing homes and churches. Throughout most of its long life, this band seems to have been more a collection of friends playing local, well-loved tunes than a professional or even semi-professional band. They usually had two fiddles, often playing in harmony, particularly on favorite waltzes. With changes in personnel, the band continued until June 27,1991.– Harry Bolick
Along the Ohio's Shores – FRC731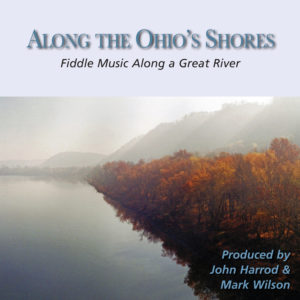 The Ohio River has long drawn settlers—including a very diverse group of musicians—to its banks for work, ready transportation, and natural beauty, creating one of the richest veins of folk music in the country. This FRC collection concentrates upon the varied and sophisticated fiddle tunes that were once unique to this region. It draws on some of the field work that we, along with Gus Meade, undertook over a span of several decades, to document the distinctive folk music along the Ohio River. We are pleased also to include some fine recordings that Barbara Edwards Kunkle made in the early 1970s. – Mark Wilson & John Harrod
Kentucky Fiddlers Home Recordings, Vol. 1 – FRC732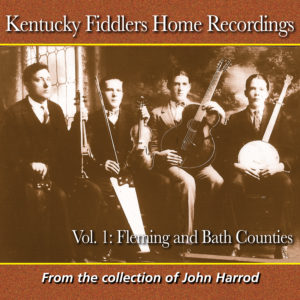 These recordings are among many unexpected treasures that came my way as Gus Meade, Mark Wilson, and I were making field recordings of old traditional fiddlers in Kentucky. During the 1970s, 80s, and 90s we sought out and recorded every one we could find, mostly in the central and eastern parts of the state, and were able to get a glimpse of the old regional fiddle styles that predated the bluegrass music that was thriving at that time in these rural areas. Although the old fiddlers we recorded were still playing with skill and vigor, we often wished we could hear what they had sounded like when they were younger. We then discovered that many of these players had made use of recording devices as they became available in their own communities. These home recordings, in contrast to the field recordings we had made, capture many of the same performers when they were much younger. They show that the local players were conscious of the tradition they were part of, they knew what they were doing, and they took it upon themselves to see that it was preserved. The story of how this collection came into our hands from several different sources can be read in the accompanying notes on the FRC website. – John Harrod
Teodar Jackson – African-American Fiddling from Texas – FRC728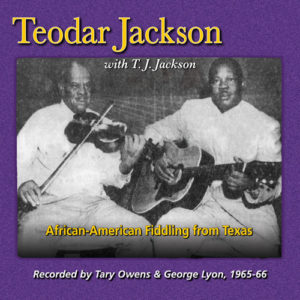 Teodar Jackson (1903-1966) was an old-time fiddler with deep roots in Texas. He was born in Gonzales County, where his family had farmed since his grandfather emigrated from Mississippi sometime after 1850. African-Americans numbered roughly a third of the county's population in the 1880s. Communities like Wesley Chapel, Monthalia and Canoe Creek were small rural sanctuaries where many musicians came of age to the sound of old-time fiddling at dances and country suppers. By the 1940s the family had moved north to the Austin area, settling in the St. John's community, where Mr. Jackson remained a fiddler known to all as 'T-olee' and to family as 'Papa-T'. Familiar square-dance tunes, blues, and rags made up a large part of his repertoire, but in addition he played a number of set-pieces that hint at something perhaps older, otherwise lost to our ears, until his playing was recorded by Tary Owens in Austin, in 1965. – Dan Foster
Order here. Downloads for Teodar Jackson available here.