Description
Over a span of nearly four decades, a small group of friends, the North American Traditions Group, traveled over large swaths of the Appalachians, the Canadian Maritimes, the Ozarks, and the American West, recording many hundreds of hours of traditional music. Styles heard in the NAT collection range from unaccompanied ballads to vocal quartets; virtuoso fiddle solos to string bands; blues to gospel to topical songs. This is the first box set of three and includes the first five CDs of this monumental collection: From British Tradition, A Musical Melting Pot, Songs of Melancholy and Sorrow, The Anglo-African Exchange, and Grown on American Soil.  Specially priced at $70 plus shipping in the continental US.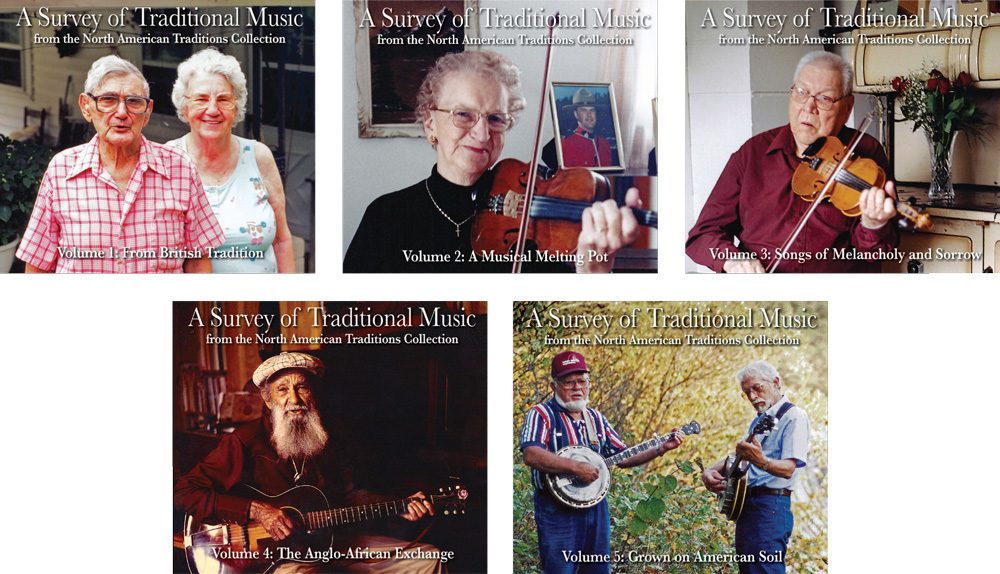 FRC 801: From British Tradition – Volume 1 concentrates upon the older songs and ballads that originated within the British Isles but have often assumed markedly different musical personalities as they have adapted to the American experience. Some of the musicians sampled here are comparatively well known, whereas others have never appeared on disc before.
FRC802: A Musical Melting Pot – This volume focuses upon the rich blending of cultures that lies in the background of our traditional forms of instrumental music. Several versions of a common tune are placed alongside one another, as a means of illustrating how diverse a melody can become as it settles into different communities across our broad continent.
FRC803: Songs of Melancholy and Sorrow – Many forms of traditional song embody profound feelings of melancholy that directly reflect the hardships of rural life. Some of these pieces were originally banal compositions from professional songwriters whose emotional contours became utterly transformed by the sensibilities of the great traditional artists heard here.
FRC804: The Anglo-African Exchange – During the 19th century the modern American musical vernacular became forged through a complex and poorly understood set of interactions between Anglo and African-American subcultures. The NAT group was especially interested in collecting information with respect to these undocumented exchanges, and some of our discoveries are illustrated in this volume.
FRC805: Grown on American Soil – A wide range of what are now called "folk songs" and "folk tunes" directly reflect our national experience, often with little surviving indication of original authorship. Many of these chronicle historical events or local modes of culture in appealing and unexpected ways.