FRC732 – Kentucky Fiddlers Home Recordings Vol. 1
by John Harrod
One day in September 1977 I got a phone call from George Hawkins asking if would I give him a ride to the fiddle contest at the Bath County Fair. I had visited him a couple of times previously and was struck with his way of playing. He was someone I wanted to learn from and he was willing to oblige. I was a little surprised to learn that they still had a fiddle contest at the Bath Co. Fair but I should not have been. What few contests still taking place at the time would draw a few fiddlers who could scratch out hackneyed versions of some bluegrass tunes, but the old traditional styles no longer appeared at the contests because the judges were as swayed by what appeared on radio and television as the fiddlers were, and an old time fiddler had no chance of winning. But this contest proved to be different in all respects. There were no bluegrass fiddlers, only old time players from three adjoining counties who all knew each other.
This would be my first meeting with Alfred Bailey, Bob Prater, and Eldon Calvert, all farmers who played the fiddle and played the tunes handed down in their area with consummate skill and passion. It was a great contest before a large and appreciative audience for anyone who loved good fiddling. It was the kind of contest where it was impossible to pick a winner. They were all equally good and so it was won by George Hawkins because he was the oldest. When it was over the fiddlers gathered in the parking lot and traded tunes for a couple of hours until we had to leave. The bystanders were calling for local tunes like Weddington's Reel and New Money, tunes they seemed to own as much as the fiddlers, and no one asked for Orange Blossom Special. A young man was buck dancing to every tune. This was a music community.
Alfred Bailey and Bob Prater became two more of my fiddle heroes and they were to lead me in more new directions. Bob was from Lewis County and his playing showed similarities with another Lewis Countian, Buddy Thomas, who I thought was the greatest fiddler I had ever heard. Alfred lived in Flemingsburg and introduced me to other great fiddlers of that county.
Both Alfred and Bob maintained that the best fiddler in those parts was undoubtedly Warner Walton although he was maybe a bit peculiar about playing for anyone Bob said. So undaunted, Gus Meade and I managed to track him down in Maysville. The visit went something like this: I knock on the door and a handsome looking man with his hair slicked back and a mustache who just looked like a fiddler answered the door. "Are you Warner Walton?" I ask. "Yes," he replies. "Do you play the fiddle?" "No." "Did you ever play the fiddle?" "No." "Well, we heard you were the best fiddle player in these parts." "No." So that was that. Gus and I looked at each other and we knew we were beat, so I said well it was nice to meet you and we left.
Then several years later Alfred called me up one day and said that Warner had given Alfred some tapes to give to me! I drove over to Alfred's and he brought out three reel to reel tapes that Warner had said to "give to that boy." I was surprised that he even remembered me and more surprised that he would so generously send me some tapes. But I was even more surprised when I heard what was on them. I had brought a tape deck with me, and Alfred and I sat down that afternoon and listened to all four tracks on all three tapes and made preliminary cassette dubs of the contents. Warner Walton had over a period of years recorded all his friends as well as himself. He had made this great collection of the fiddlers of his neighborhood and given it all to me! Here were George Lee Hawkins, the legendary Tom Riley, John Summers who visited Kentucky with Riley, Carlton Rawlings, Alfred Bailey, Oliver Gray, Santford Kelly, and Warner Walton himself, all recorded in their prime and playing great! This stands as one of the greatest acts of kindness and generosity I have ever experienced and from a man whom many regarded as "peculiar" and aloof. I hope that this invaluable record of the fiddle tradition of these two counties at its high point will stand as a memorial to Warner Walton and his love for the fiddle and what it meant to his community.
Some of Warner Walton's recordings of Carlton Rawlings appeared on the FRC CD devoted solely to Carlton. This current CD of other Fleming and Bath County fiddlers is also from the three reels he gave me, plus other home recordings that I uncovered along the way.
The Tracks
1. Alfred Bailey and Carlton Rawlings – Martha Campbell. Alfred and Carlton were good friends and somewhere along the way they sat down for a session and laid down a great Martha Campbell. This is one of the greatest fiddle duets of all time. They're still arguing in the Kentucky corner of heaven over who played the best Martha Campbell, but until I get there and find out, I'm going with this one.
2. George Lee Hawkins –  New Money. George was quite the character. He became a widower at age 37 and it seemed from that point on the fiddle was what he lived for. He had the reputation of a hornpipe fiddler (whatever that might be), but he knew countless tunes of all kinds, many from Tom Riley and some from African-Americans. He won a lot of contests throughout central Kentucky playing old traditional tunes in a traditional style. In this setting he was competitive and hard to beat, but at home he was generous with his music and expected you to play it at a high level with a high degree of seriousness. Roger Cooper is another fiddler of my generation who sat with George and learned a lot from him. New Money is a tune that was known all over the eastern bluegrass region. It was played by the black fiddler Owen Walker, whom Doc Roberts learned from, but George learned it from Elza Stone who called the tune Fresh Money.
3. George Lee Hawkins – Money Musk. The fiddlers of this area played a lot of book tunes from Cole's One Thousand Fiddle Tunes even though most of them could not read music. They learned the tunes by ear from the ones who could read, and Tom Riley was one of those. No doubt George learned the tune from Riley.
4. George Lee Hawkins – unnamed tune. Although this tune had a familiar ring to everyone I asked about it, none of us so far have been able to identify it. To me it sounds like something I think I recall from John Summers' playing but I have not been able to track it down.
5. George Lee Hawkins – Randall's Hornpipe. Another tune from Coles that was also played by Carlton Rawlings. The Fleming and Bath County fiddlers liked showing off their skills on the most difficult and challenging hornpipes.
6. George Lee Hawkins – Arthur Berry. This was a standard tune of the fiddlers of northeast Kentucky. It is a variant of the tune played in Lewis County called Yellow Barber. Ed Haley, Buddy Thomas, and Sammy Bowles, a black fiddler from Lewis Co., played it as Yellow Barber. John Summers played the Arthur Berry version that he picked up on one of his visits to Kentucky.
7. George Lee Hawkins – unnamed tune. This is another one we have not been able to identify.
8. George Lee Hawkins – Miller's Reel. There were two different Miller's Reels played in northeast Kentucky, one in G and one in A. George played both of them, but this is the one in A from Cole's One Thousand Fiddle Tunes. Both George and Carlton Rawlings undoubtedly learned the tune from Tom Riley.
9. George Lee Hawkins – Paddy on the Turnpike. This is the standard Paddy on the Turnpike in G with an Irish flavor that shows the influence of Tom Riley.
10. Tom Riley – Lardner's Reel. When Gus Meade, Mark Wilson, and I were getting to know the fiddlers of these two counties, the name that kept coming up was Tom Riley who was a legend to the local fiddlers and so became a legend to us. The Rileys had immigrated from Ireland sometime in the late 19th century and settled near Sherburne on the Licking River. Tom and his brother Steve were both known as great fiddlers. Their home was a stopping place for the barges coming down from the mountains on their way to Newport on the Ohio River. Alfred Bailey's grandfather told him about the music that was played there when the barges would tie up for a night at the Rileys' home. Tom Riley later moved to Marian, Indiana where he became a police commissioner and ran a boardinghouse. When George Hawkins's wife died, he followed Riley to Indiana and stayed in his boardinghouse. The two remained close throughout Riley's life. Tom Riley made frequent visits back to Kentucky and staged fiddle contests in Flemingsburg where he would perform but not compete. Imagine our surprise when we were going through the Walton tapes for the first time and there was Tom Riley himself announcing that he was about to play a tune he was known for – Greek Melody! Later it became apparent that this was not a live recording. Warner Walton had made a tape recording from a disc being played on a machine and the disc was of Tom Riley. There were fragments of two other Riley tunes on the tapes and that was all. Several years later while searching around Mt. Sterling for more information about some of these fiddlers, I met Tom Byron who owned the local radio station. He told me about an appliance store that once existed in the town that had a disc recording machine. Anyone could go in and make a recording and walk out with a single copy of the disc. Tom said he believed he had some of these discs stored away in a warehouse where he kept antiques and family memorabilia. The next time I went to visit he presented me with the Tom Riley disc that Warner Walton had copied – Greek Melody on one side and High Level Hornpipe on the other! The recording of Lardner's Reel from the Walton tapes was also recorded from a disc but this one so far has not turned up. Lardner's Reel is another tune from Coles.
11. Tom Riley – High Level Hornpipe. This was another Coles tune popular in the area. George Hawkins, Carlton Rawlings, and Warner Walton all played it, but I include Tom Riley's recording because he was probably the source for all of them.
12. Tom Riley – Greek Melody. We were already familiar with this beautiful tune from the playing of George Hawkins, Carlton Rawlings, and Alfred Bailey and we knew it came from Tom Riley, but we never expected to hear Riley himself playing it. Obviously one of the Irish tunes in the Riley repertoire but I have yet to find an Irish antecedent for it.
13. Henry York – Liza Jane. I had heard other fiddlers speak with admiration of Henry York and I met him for the first time at a Hawkins family reunion and recorded him, but the recordings featured here were made by his son David who is also a fine fiddler. Much of Henry's repertoire came from his father Tom York who worked on the riverboats on the Ohio River. The ballrooms of the steamboats that plied the river were the source of a number of tunes that were played in northeast Kentucky. Henry's three-part setting of Liza Jane is one of the many variations of this tune that was played throughout the upper south.
14. Henry York – Going to Charleston Early in the Morning. This belongs to a family of tunes in northeast Kentucky that includes No Corn on Tygart, Jimmy Ossington, and Snakewinder.
15. Henry York – Diamond T. Henry was famous for this one. Resembling Gray Eagle in the B part, it is however its own distinctive tune.
16. Henry York – Walking in the Parlor. Henry's version of this widespread old minstrel tune is my favorite of them all. The syncopated string crossing licks in both the A and B parts identify Henry as a fiddler of his region. Sometimes referred to as the Doc Roberts lick, it did not originate with Doc Roberts. It was part of the style of most of the fiddlers in central and northeastern Kentucky, many of whom had never heard of Doc Roberts.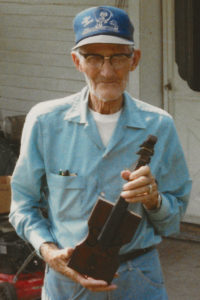 17. Oliver Gray – The Mouth of Buchanan. Oliver Gray was a farmer who lived near Ewing in Fleming Co. Alfred Bailey and I recorded him in 1986 and found him to be an exceptionally good player in the local style with a good repertoire of the local tunes. The recording included here comes from the Warner Walton tapes and is the only tune Warner recorded from him. The Mouth of Buchanan is a version of one of the oldest American fiddle tunes, George Booker.
18. Sid Stone – Leather Britches. Gus Meade and I visited with different members of the Stone family in the 1980s and experienced one of the most remarkable family music traditions in Kentucky. Elza Stone of Bath Co. had 11 children who all played an instrument. In the 1920s Elza and his three oldest sons Sid, Howard, and Jim performed on Cincinnati's WLS under the name of the Happy Hollow Entertainers. When Gus and I met them, Jim and Nancy were still fiddling but Sid had passed away. We were told that Sid had died while sitting in a chair playing the fiddle. Tom Byron gave me the disc with Leather Britches on one side and Fisher's Hornpipe on the other. Jesse Wells obtained the disc of Brickyard Joe from another family member. Both had been recorded at the appliance store in Mt. Sterling. Although many fiddlers today prefer to play unusual and obscure tunes, the well-known tunes provided fiddlers a chance to compare their skills with the larger number of people who played those same tunes. We can appreciate the style and interpretation of a well-known tune as much as we appreciate the novelty of a tune we've never heard before. Leather Britches was a perfect vehicle for the local style. In addition to Sid Stone's we have great versions from George Lee Hawkins, Alfred Bailey, Carlton Rawlings, and Warner Walton. It was a favorite tune for a reason.
19. Sid Stone – Fisher's Hornpipe. Another standard that was well suited to the style. There were more hornpipes played here than in any other part of Kentucky.
20. Sid Stone – Brickyard Joe. The tune was widespread with variations throughout central and northeastern Kentucky showing that it could not have derived from the Doc Roberts recording. We were told that Jim Booker played it which suggests an older derivation from black fiddle tradition.
21. Warner Walton – Cumberland Gap. Warner Walton was originally from Fleming Co. but at the time of our ill-fated encounter, he was living in Maysville where he ran a shoe shop. Roger Cooper told us that on fiddle contest days in Maysville the fiddlers would gather in Walton's shop to play, but he wouldn't join them. Roger believed it was because his brother who once played with him had died. But like Carlton Rawlings, Warner Walton left his legacy in the recordings he made of himself in the privacy of his own home, and for that we can be grateful. Cumberland Gap was played in many different versions all over east Kentucky.
22. Warner Walton – Constitution Hornpipe. Another tune from Coles. Walton excelled at these hornpipes that require a lot of precise single note bowing.
23. Warner Walton – Alexander Waltz. The story in the Rawlings family about this elegant waltz was that its real name was the Sanders Waltz. It was played by Sanders Rawlings who was murdered one night coming home from a dance. Somehow the name got translated into the Alexander Waltz. George Hawkins and Alfred Bailey also played nice versions of it.
24. Warner Walton – Flannery's Dream. Warner Walton and Buddy Thomas undoubtedly learned the tune from Santford Kelly who used to travel up to the contests in Flemingsburg. Walton recorded Kelly on one such occasion and those recordings will be included in the next volume of these home recordings. Ricky Skaggs knew the tune from Kelly and used to play a solo rendering of it on his shows before he moved to Nashville. Most versions of it come from Morgan or Elliott Co. John Salyer's Flanders' Dream is an outlier that seems to be a distant cousin of the one played here.
25. Warner Walton – Opera Reel. Also from Coles, this was played by a number of fiddlers in northeast Kentucky including J. P. Fraley and George Hawkins.
—John Harrod, June 2020