The Field Recorders' Collective is proud to present: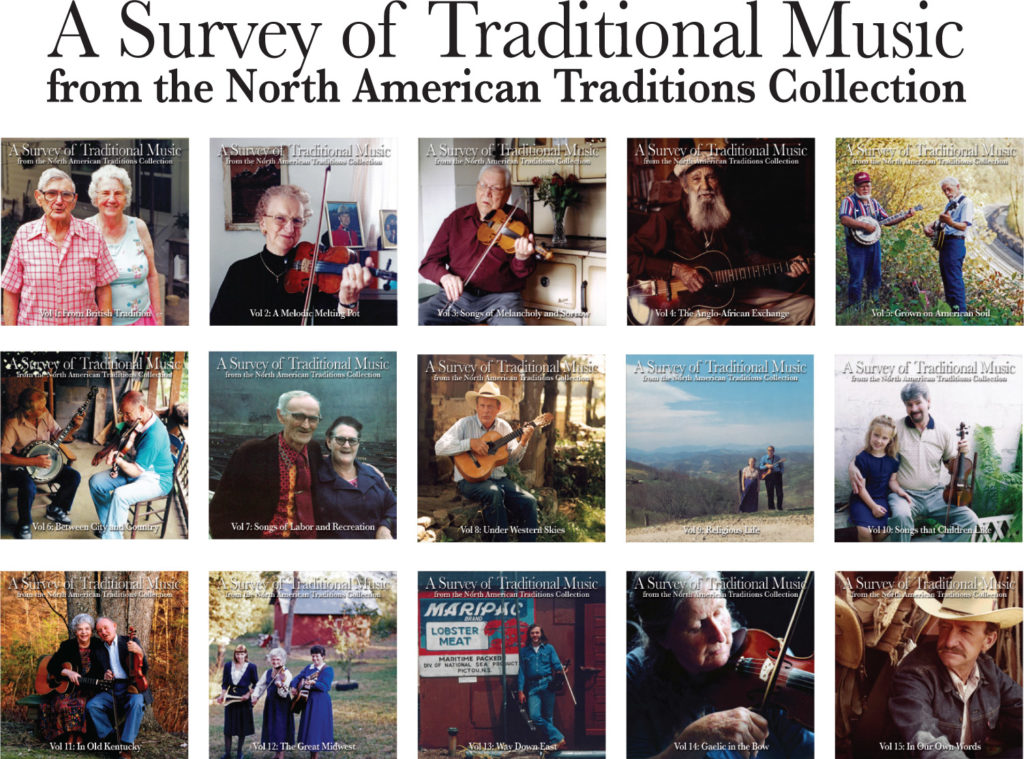 Over a span of nearly 4 decades, a small group of friends (the North American Traditions Group) recorded many hundreds of hours of traditional music over large swaths of the Appalachians, the Canadian Maritimes, the Ozarks and the American West. Styles within the NAT collection range from unaccompanied ballads to vocal quartets; virtuoso fiddle solos to string bands; blues to gospel to topical songs. The FRC and the NAT Group are proud to present the 15-volume Survey of Traditional Music from the North American Traditions Collection! This presentation is also unique in that each volume is accompanied by extremely detailed notes by Mark Wilson, Norm Cohen and other experts that attempt to situate this music within the historical fabric from which it emerged.  Links to these explanatory notes are provided below.
What an amazing project. Can't wait to stuff it all into my ears! —Charlie Walden
Excellent sound, copious notes, and more photographs that anyone would think possible. A great project! —Tom Carter
This scope of this collection is completely mind-blowing…just incredible! —Brad Leftwich
An important window into times past that we won't see again. —Bruce Molsky
15 Volumes plus a Preview album
Over 530 tracks
More than 350 (65%) previously unissued tracks
Over 150 artists (some well-known, but some surprises!)
Extensive contextual PDF notes (~150 pages) for each volume

Copious historical illustrations and valuable commentaries by the artists themselves and various experts, including Mark Wilson and Norm Cohen. With rare photos and other graphic images.

Produced by Mark Wilson and John Schwab
Unparalleled geographical coverage.
Outstanding sound quality
NOW AVAILABLE:
THE PREVIEW ALBUM!
30 Great selections from the NAT Archive, two representing each volume of the Survey (but not duplicated within the Survey).
For more info and to purchase please click here.
Tracklist for the Preview Disc- FRC800

The Merrimac at Sea – Almeda Riddle
The Lady Gay – Buell Kazee
Kitty Puss – Buddy Thomas
Storm – Dwight Lamb
No Sorrow Will Be There – Ola Belle Reed
My Heart Is Broke Since Thy Departure – Theresa Morrison
Old Aunt Adkins – Owen "Snake" Chapman
God Don't Like Ugly – Sam Chatmon
Newsy Women – Nimrod Workman
McKinley March – Fields Ward
Wink the Other Eye – Lonnie Robertson
I Tickled Her Under the Chin – Asa Martin
Old Age Pension Check – Nova & Lavonne Baker
The Jam on Gerry's Rocks – Wash Nelson
The Dying Cowboy – Hobert Stallard

Make Me a Cowboy Again For a Day – Glenn Ohrlin
Hold to God's Unchanging Hand – E.C. & Orna Ball
God Moves in a Windstorm – Sarah Gunning & Jim Garland
Tally Ho! – Blanche Coldiron
Old Bill Rolling Pin – Bessie Jones & schoolchildren
Galleynipper – J.P. & Annadeene Fraley
Bostony – Roger Cooper
Piedmont – Art Galbraith
Sourwood Mountain – Bob Holt & Bill Conley
New Market Reel – Jerry Holland
Jenny's Welcome to Charlie – Paddy Cronin)
The Bee's Wing Hornpipe – Carl MacKenzie
The Bell Piano Strathspey – Theresa & Marie MacLellan
Good Morning This Morning/Tobacco Poem – Nimrod Workman
Cowboy, Go Union – Van Holyoak
Volumes Comprising the Survey

Preview of the Survey
Vol. 1: From British Tradition
Vol. 2: A Melodic Melting Pot
Vol. 3: Songs of Melancholy and Sorrow
Vol. 4: The Anglo-African Exchange
Vol. 5: Grown on American Soil
Vol. 6: Between City and Country
Vol. 7: Songs of Labor and Recreation

Vol. 8: Under Western Skies
Vol. 9: Religious Life
Vol. 10: Songs that Children Like
Vol. 11: In Old Kentucky
Vol. 12: The Great Midwest
Vol. 13: Way Down East
Vol. 14: Gaelic in the Bow
Vol. 15: In Our Own Words
To see the entire Survey Track Listings for all 16 volumes.
To see the list of artists included in the series.
Sortable table of contents of all discs.
Testimonials from prominent musicians and experts
Extensive PDF Album notes for all Survey volumes
Background information about the NAT Collectors and their Research Archive
The NAT Research Archive includes:

Published projects – about one hundred previously-released albums
Original sessions – Original field recordings from which the Survey volumes are drawn
Survey notes – Informative notes for each volume each about 150 pages including rare photos and commentary by experts and artists
Free open access to an invaluable resource.
---
The FRC wishes to express gratitude to The Southern Folklife Center for their cooperation in providing copies of recordings and documents that are critical to our work. The Southern Folklife Center at the University of North Carolina-Chapel Hill (SFC) safeguards, preserves, and restores (as necessary) many important collections of recorded music and related documentation, while at the same time providing public access (subject to permission, as required by the donors of these collections). Among the collections housed at the SFC are the original materials of the NAT Collection, including audio recordings, photographs, and notes.