The Horse Flies (FRC602)
By Luke Z. Fenchel
Ithaca Times -11/14/2007
In the late 1970s and early 80s, bands like Joy Division, Talking Heads and Public Image Limited dared to take punk and pop and "rip it up and start again." While those groups were reworking Anglo-American popular music, another group of artists were exploring the sonic possibilities of an even more established genre: old-time fiddle music. The Ithaca area was a focal point in this tradition's redefinition. In 1985, The Tompkins County Horseflies released a split LP with Boston-based Chicken Chokers. Called Chokers & Flies, the record offered two takes on old time music: the traditional yet whimsical approach of the Chicken Chokers complemented the experimental efforts of the Horseflies who incorporated percussion and island rhythms into traditional forms.
The album introduced new and vital styles of old time music to new audiences and the following years marked a great revival for old time music, centered largely in the Finger Lakes region and experienced at festivals throughout the country. But by the mid-90s, the movement had lost steam; for separate reasons, The Horse Flies and Chicken Chokers had put their fiddles and banjos back on the shelf. The last few years, however have seen a renewed interest old time music. Both the Chokers and The Horse Flies have reunited, and younger players are picking up instruments and carrying on the tradition. Suddenly, again, for old fogies and young inheritors, old time is all the rage.
There's A Party Going On!
It's only a bit past six on Friday night, but there's barely any space to stand in Felicia's Atomic Lounge. The bar is swamped, and folks who aren't planted on couches are gathered around chatting. Babies are passed amongst parents and friends, and drinks are flowing steadily among audience members. Slowly, a gaggle of folks filter out of the crowd to sit in a circle in a corner of the bar. Later identified as Jim Reidy (banjo), Chip Taylor Smith (guitar), Paul Strother (bass), Stefan Senders (banjo), and Chad Crumm (fiddle), the recently reunited Chicken Chokers begin to play on and off for the next few hours. The atmosphere resembles a family gathering more than a performance; instruments are exchanged and in between sets of two or three songs, the members pause to drink, chat and laugh.
The Chokers are in town for a three-performance weekend, with two of the members down from Boston. The same weekend, The Horse Flies will play to a packed house at Castaways. Felicia's has been hosting old time music since the beginning of the summer and the crowds show no sign of abating. Meanwhile, the Pourhouse in Trumansburg has become the center of musical gatherings in much the same way the Rongovian Embassy used to be. Any way you look at it – the old is new again, and folks are partying like it's 1979.
Originators: Appalachian Roots and Old Time's First Revival
Old time music is the earliest North American traditional music other than the music of the First Peoples. It is comprised of string instruments: primarily the fiddle, banjo and guitar, and was originally played by white rural agrarian Southerners in Appalachia. Tracing its lineage back to Scottish and Irish tradition, old time was passed down through families in communities across the country. In the 1920s, early record labels began marketing traditional folk music under the label "old time" and the genre grew in popularity. In a 1959 essay "Folk Song Style," published in American Anthropologist, folk historian Alan Lomax said that old time music "give[s] the listener a feeling of security, for it symbolizes the place where he was born, his earliest childhood satisfactions, his religious experience, his pleasure in community doings, his courtship and his work-any or all of these personality-shaping experiences."
By the 1930s and 1940s, the genre was derided as "primitive," and fell out of fashion with mainstream audiences, although it lived on in communities where it was passed on from generation to generation. In the early 1960s, however, old time experienced a great resurgence as American folk musicians sought the roots of working white people's music. Pete and Mike Seeger played a significant role in this revival, and Mike's New Lost City Ramblers (with John Cohen, Tom Paley and Tracy Schwarz) popularized the genre with new audiences.
By the early 1970s, you could divide old time music into two camps. On one side of the divide, archivists sought preserve traditional music as though it belonged in a museum. They collected, documented and replicated the music of Appalachia, where individuals had been performing in communities isolated from the outside world. The other camp could be described as the "good time old time" approach, which emphasized entertainment over preservation. Trumansburg's Highwoods String Band fell squarely into the latter camp. Blisteringly fast and emphatically fun, Mac Benford, Walt Koken, Bob Potts, Jenny Cleland and Doug Dorschug respected tradition without stifling it.
"Highwoods rocked the socks off of all the young people," Judy Hyman explained. "They were young, they were sexy, they were hot – and they were playing to crowds of a thousand wherever they went. They were incredibly appealing. If you look at pictures from that time – the men were all adorable, and they had an adorable gal in the band. And the music was spectacular. It was fast – loose and organized at the same time. It spawned a lot of stuff – and they were from here!" Highwoods' legacy was the legion of new, young fans they drew into the fold. Walt Koken remarked in the late 1970s that, "Ironically, the more well known we became, the less necessary we were to the growing old time music scene, since one of the messages is to do it yourself – unplug it, and take it home!" The kids took it home and took it on the road. Following the Highwoods' footsteps, Hyman, Jeff Claus and Crumm traveled to festivals throughout the country. At the time, festival playing was integral to the revival of the old time music scene. Three were of particular importance: Galax and Union Grove in the South, and Brandywine in the North. These events provided the opportunity for performers to jam together, and also exposed young musicians to major old time figures who wouldn't normally play outside their communities. If Highwoods and other locals the Correctones String Band (with John Specker and Danny Kornblum) were inspiring, old masters like Tommy Jarrell, Fred Cockerham, or George Pegram provided a foundational musical education.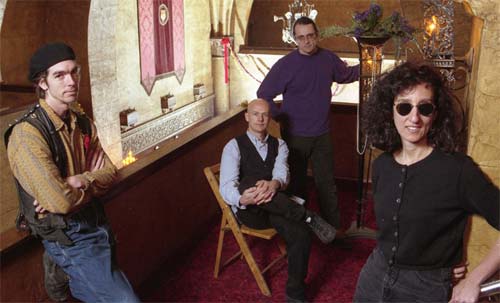 Tribal Revival: The "Demented Post-Modern Mountain Music" of the Flies
The Horse Flies took the old time idiom celebrated by Highwoods and other Ithaca area groups and made it their own. Calling it "neo-primitive bug music" Hyman, Claus, Richie Stearns and John Hayward (and currently including Taki Masuko, Rick Hansen and Jay Olsa) stretched the traditional definitions and limitations of a uniquely American genre.
Speaking with Hyman in the restored house she shares with Claus, she explained the roots of The Horse Flies: "Either you identify with replication, or they just took it on because it sounded good and they wanted to play it. If you take it on because it sounds good, then it becomes whatever it is in your hands. If you love this music, and you really love the authentic sounding stuff, and you do it your own way, you really are carrying on the tradition."
Hyman and Claus arrived in Ithaca with an interest in old time music, but that interest quickly burgeoned into a pastime and then a career. Before forming The Horse Flies, Hyman, Claus and John Hoffmann played with Mike Scott, another fiddle player, and Molly Stouten on the bass. But when Hoffmann left for graduate school, the rest of the band needed new members. They met Richie Stearns when he was 14 at a party in Virginia called "Breaking Up Christmas," and by 1981 he had joined the band. Stearns described the experience of playing festivals absolutely thrilling. He's been playing banjo since he was eight. "At ten, I decided I would build myself a banjo," he explained over Gimme! coffee. "And I did!" He and Jeb Puryear were already playing as Bubba George when they first saw Highwoods at Union Grove. "We learned from Ithaca folks, we learned from Southerners," Stearns recalled. "We were the next generation! But we loved to play with geezers. I played with this guy Ralph Blizard – and I think we met at 11 a.m. and played for 16 hours straight!" "It's a melting pot," Stearns explained, "and you had to visit places to learn what to put in the stew. You have to learn from the sources; you learn the songs so you can [expletive] them up!"
After cutting the "Flies" side of Chokers & Flies, The Horse Flies began to experiment. Hyman recalled that "we had already made the Chokers & Flies thing, which is about as pretty straight was we get, though it was still a departure by traditional standards." Entering the studio to record their follow-up, Hyman and her group were inspired to "go a bit out there," as Stearns recalls.
"Out there" turned out to be the incorporation of the sound of the synthesizer, and re-working of songs drawn from genres outside of the old time cannon. Finding some of the lyrics to old time songs racist, the band drew from other texts. In the studio, they took lyrics by the Cramps and re-created old-time music that mixed a heavy synth sound and sonic repetition. The result was Human Fly. A similar effort, "Hush Little Baby" scored the band a hit on MTV's 120 Minutes. "About three weeks after the record came out," Hyman recalled, "we started getting calls, 'can you perform that music?" and we thought 'oh sure!' but immediately – how are we going to re-create that?!" The Horse Flies had met Taki Masuko at a few gigs at dance camps; and he was soon an integral part of the band. When on the road, The Horse Flies would also incorporate two drum kits: Peter Dodge played keys and percussion from 1987 until the late 1990s.
"We had the luck of the draw we happen to have a critical mass of people who want to try things. Richie, Jeff and I always want to try things. Taki too," Hyman noted.
After recording Human Fly and follow-up Gravity Dance, The Horse Flies released a soundtrack called Where The Rivers Flow North. Then, John Hayward passed away after a long battle with cancer. Hyman explained: "When John died in 1997, we had always said 'til death do us part. And so when he died, as the original foursome, we decided to stop. And then in 2003, an agent in Europe got in touch with us and invited us over; and we didn't know what to do. We had been playing with June Drucker under the name Edna's Driveway; and we decided we'd do it. We drew together the current incarnation [adding Hansen and later Olsa]. And we're really enjoying it." The Horse Flies plan to release a new album early next year.
Vintage Sound, But No Nostalgia: Chad Crumm and the Chicken Chokers
While The Horse Flies were getting their start here in Ithaca, a few fellows in Boston were playing regularly at a Cambridge club called the Idler. A glance at a poster from 1982 wedges Crumm's Chicken Chokers between a performance by Ramblin' Jack Elliott and a reading by Cormac McCarthy. Playing throughout the early 80s, the Chokers would visit Ithaca and stay with Hyman and Claus, and The Horse Flies would play in Boston, and crash with him. (Later, Masuko, also living in Boston, would have a room always available to him at Hyman and Claus's.) Crumm attended the New England Conservatory and studied composition, but his recreational and social interest was old time fiddle music.
That's not to say he is limited to the old time form. He has recorded myriad bands at The Music Tank, his studio in Trumansburg, and has always explored a diverse array of influences. Crumm has played with Plastic Nebraska, a band influenced by the Horse Flies, sharing Hansen and Olsa as key members. He headed up a band called The Hixx, and participated in the gauzy-sounding Moles. He currently plays with The Common Railers, which also includes Peter Glanville, Gordon Rowland and Mike Costello. The Railers' repertoire ranges from country and blues to pop and rock, while Plastic draws equally from country and new wave (Gabriel Tavares' guitar playing echoes early U2). On Sunday, Dec. 16, Crumm and Karen Ruston (from Love Knows No Bounds; renew-orleans.org) are organizing a benefit at The Haunt for Hurricane Katrina survivors from the Seventh Ward of New Orleans. Crumm will be playing, as will Richie Stearns, Steve Gollnick, and The Common Railers.
Visiting him in his home overlooking a pond, Crumm explained his influences. "[Judy and I] have an appreciation for Sonic Youth; and the middle movement of Stravinsky's Violin Concerto; or of other forms of music besides old time music. But there are few people at these festivals who appreciate those other bodies of work."
If The Horse Flies focus on the tunes, the Chokers play both songs and the tunes. "Jim is the song guy, and I'm the tune guy" Crumm explained. "He digs up great stuff for the band to do, and brings in stuff I'd otherwise not stumble upon." Crumm also loves to sing. "It's not the song but how you sing it!" he declared, endorsing his own irreverent delivery and noting that a lot of the old time songs were filtered through vaudeville.
Perhaps because it's been so long since they all played together, the Chokers sound hasn't changed much since the original Chokers & Flies LP. But Crumm believes he can be "pretty darn expressive within the traditional medium." As for the history, Crumm approaches it with a grain of salt. "You know, no one [expletive] knows anything! People go to college, or they're ethnomusicologists, but they really don't know shit. Basically, there are versions of these songs that get passed on from generation to generation. And that's the folk process! It goes on and on, and there's no way to really track it. "I do it 'cause it's fun! And most people from around here do, too; that's what drew me to the area, and why I enjoy playing with folks from around here. At a lot of these festivals, it's like camping out with a bunch of librarians… I think it's better to play and whatever comes out comes out." "I just love playing the fiddle," he emphasized. "I just love it. And I didn't for a number of years. But now, playing with the Chokers, I feel good again, like I'm finally having fun with what I did back then. Because of this Choker reunion, I really got warmed up to the fiddle for the first time in 20 years."
Living for the Future: The Inheritors of New Old Time Music
To get a sense of what the future holds for old time music, one need only spend a little time with three young women in their early twenties. Growing up in Trumansburg, Lydia Garrison, Emma Morris and Rosie Newton all studied at the feet of Stearns and Hyman, just as those two studied at the feet of Mac Benford and company. "It's a continuation of the folk process," Crumm declared, referring to the musical style of Garrison and Morris. "They perhaps couldn't care less about how Tommy Jarrell played the fiddle; but they do care about how Jed Greenberg plays the fiddle; or Jeb Puryear or Tara Nevins [both from Donna the Buffalo]."
Garrison and Morris played in the Darling Clementines with Lily and Phoebe Aceto, and were awarded "Best Up and Coming Band" at North Carolina's Mt. Airy Festival when they were all around the age of 16. More recently, Garrison went down to North Carolina to help found the GrassRoots Festival in Shakori Hills. She tours regularly and just released an album with a band called Turtle Island Dream, which includes Jordan Puryear, Jeb's brother. Morris picks up the fiddle occasionally when needed. Newton, who is currently a sophomore at Ithaca College, has also been playing frequently in town. Crumm described her playing as "dynamite."
Stearns had encouraged Garrison and Morris to play at an old time night at the Rongo, and they would jam there as well as at Key West (now Castaways) on Wednesday nights. "Wednesday night was old time night for us," Garrison explained. "We would play from when school got out until midnight; and then just crash on Richie's couch," Morris giggled. "I remember listening to that Chokers & Flies tape over and over again, rewinding one particular part and fantasizing about playing the fiddle like that," Morris explained. But the pair was quick to point out that they were also influenced by the Heartbeats (with Tara Nevins, June Drucker, Rose Sinclair, and Bev Smith). They primarily listen to old time, but Garrison is currently fascinated by traditional kora playing, and has always been interested in Cajun and other African music.
Hyman assessed the state of regional sound and style among the younger generation this way: "Maybe part of it also, you know when I was a kid, fiddle is not a word that was mentioned in a violin lesson. And now you read the American String Teacher magazine, and they have a whole category of 'Alternative Styles,' and so they are learning things about fiddle playing as they grow up. It makes for a more homogenous sound because they are not learning it from a geographic location. The geography of music is a very interesting topic and it really does matter. That's why you have a regional sound around here. Richie has been teaching and I've been teaching, and Lydia has been listening to Bubba George and Jeb. And you have something regional going."
Garrison, for one, is well aware of an Ithacan regional style. She mentioned that while playing down in Florida, a fellow approached her after a jam session. "'Are you in The Horse Flies?' he asked. I got a pretty big kick out of that." If some younger players seem less concerned about the historical roots of old time music, others are quite attuned to their place in the community and beyond. Steve Selin, a fiddle player and maker who lives out near Buttermilk Falls in Danby, grew up at the feet of The Henry Brothers, a famous group from Naples. Selin spoke to me from the second floor of his workshop overlooking Cayuga Lake, which he shares with the spectacular mandolin maker Troy Harris. As he traced his version of the old time revival dating from the early 70s to the present day, he turned out to be the most affable ethnomusicologist I could hope for. Over strands of Gillian Welch, he spoke of what he referred to as "hippie music."
Selin explained: "A fellow a little while back was working on a book: How Hippies Ruined Old Time Music – he meant it tongue in cheek. But wherever you visit – whether it's Cliff Top in West Virginia or Shakori in North Carolina or throughout the South, an old time audience would immediately recognize the regional style of the Finger Lakes."
"There's a Cajun back-beat. Something that may have come from the Correctones – or maybe elsewhere." Later, Hyman sang me a version of this over the phone. "I'd play it for you if you were here; un-ca-chicka, un-ca-chicka, un-ca-chicka" – and I immediately recognized the sound from The Horse Flies.
Last Sunday, Selin hosted a party up at his beautiful house in Danby. About 30 or so folks had gathered by four in the afternoon; outside, activity centered on pressing cider. Selin, as well as band-mate Jason Zorn of the Hogwashers and Eric Kincaid, supervised the proceedings. Others, amongst them Garrison, a saw player named Emilie Stark-Menneg, and banjo player Matt Noonan cavalierly tossed apples into the press. Folks chatted and drank (beer, not cider), while discussing the proportions of beginning with bushels and ending with gallons. Kincaid seemed to be the resident expert, but the effort was more communal and collegial than structured. Inside Selin's house, another group of about 30 had gathered, and toddlers wandered around happily. In the corner of the gorgeously restored living room, two musicians – a banjo player and a fiddler – played facing each other. When asked their identity, Noonan nonchalantly informed me that he didn't really know. "They're familiar – sure. And they've been around. You know, they're just playing socially."
Visit us on the Web: thehorseflies.com and myspace.com/thehorseflies.