By Jerry Epstein
I first went to Pinewoods Camp Folk Music Week in 1965 — a life changing experience in more ways than I can count. It was the first time I had an opportunity to live with source traditional artists, and I had enough sense to realize that there was something special here that would not be found on the coffee house circuit. I met Jean Ritchie in 1965, Louis Killen in 1966, and Norman Kennedy in 1967.
It becomes an amazing list. The New York Pinewoods Folk Music Club was founded in the Fall of 1965 by people who had been to the camp and wanted to continue the experience year round.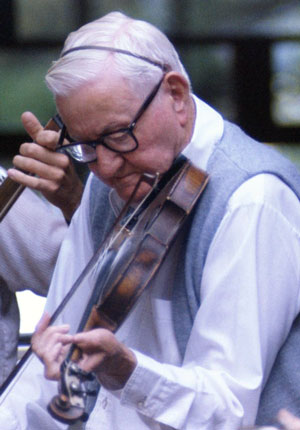 Folk Music Week was always struggling in those days, and the CDSS leadership specifically asked the Club to do what we could to help bring people to the week. I met Paul Brown at Pinewoods in the mid 1970s, took a couple of banjo lessons (didn't help a lot) and slowly discovered that he had a real family tradition of songs and tunes in his bones as well, from his mother and aunt who were from the Virginia – North Carolina border area. Paul moved down to North Carolina sometime around 1980 to be close to the music that was his real roots.
Starting in 1983, Paul told me that he was hanging around with Tommy Jarrell (I vaguely knew of this legendary name) and he thought he could get Tommy to Pinewoods. I passed this on to the leadership of Folk Music Week at that time, and in 1984 it all worked out. Paul brought not only Tommy but also Mike Seeger. They set themselves up in one of the buildings and basically had a daily informal session on the porch in the woods, next to the pond, at the magnificent spot that is Pinewoods to this day. The week sold out — one of only two times it has done so in the 43 years since I first went. I had purchased a good quality cassette recorder at that time, and was recording things that I thought were of value, or even more so, singers with songs I wanted to learn.
That summer I borrowed a good mike from Don Wade (*Don Wade made the digital transfers from the original tapes used in both volume one and two) and sat on the ground in front of the porch and recorded Tommy, Paul and Mike. For the crude circumstances, recordings made with never a dream that they would be issued for others to hear, the tapes came out remarkably well. I am very pleased that Field Recorders Cooperative finds these recordings as interesting and exciting as I do, and I hope that many others will get at least the sound of Pinewoods, and a sense of the magic that happens there on a regular basis. But to really share in an indescribable experience in traditional music, you need to go there for yourself. -Jerry Epstein