John Ashby John Ashby and the Free State Ramblers (FRC108)
By Sandy Hofferth (original article appeared in the Old Time Herald)
Skip Ashby, a winner at the 2005 Appalachian String Band Music Festival at Clifftop, WV, is the latest in a long line of fiddlers going back several generations and a link in a chain of musicians in the Warrenton area of Fauquier County, VA, that goes back a century and a half. The Free State Ramblers, one of the longest running bands ever, started in the 1930s and are still active today, playing for private parties, fairs and festivals in Fauquier County.
The musical tradition of the Ashbys of Fauquier County, Virginia, predates the Civil War. An early Fauquier County history reports that the musicians for a Fauquier White Sulphur Springs (now Fauquier Springs Country Club) dance (in its heyday in the 1840s and 1850s) were "the Ashby boys."
Skip is an 8th generation descendent of Captain Thomas Ashby of Virginia, who was born in 1680 and lived in Frederick Co, VA until his death in 1752. Captain Thomas Ashby's son, Robert, founded Yew Hill in Delaplane, VA. His son, Captain John Ashby, a captain of the 3rd Virginia regiment in the Revolutionary War and Skip's great great great grandfather, lived at Belmont. Skip's great great grandfather Nimrod Ashby Sr. was a captain in the War of 1812. Up to this point the Ashby's were military heroes and businessmen, but not musicians, at least as far as the record goes.
This story begins with Nimrod Thomson Ashby, son of Nimrod Ashby Sr. Nimrod Thomson Ashby (1811-1875) married Adelia Smith, a Marshall, and they were deeded a large property called Sherburn Farm — some 237 acres — with a pre-Civil War farmhouse that was renovated around 1860. From this family originated a musical dynasty. Nimrod had 10 children, including John Marshall Ashby (1856-1927) and Joseph Edward Ashby (1857-1940). Joseph told of his father Nimrod, a military officer in the Civil War, coming home late at night and letting the dogs in to warm up by the fire. Their barking woke up the entire family: "Hated to see him come home and glad to see him go." The Ashby's have retained much of that original property, dividing it up among family members and continuing to farm the land.
The Joseph Edward Ashby Family
We know that Joseph Edward Ashby was a fiddler. The recollections of Joseph's grandson Moffett are that he played with a shaking, palsied arm. Joseph sat by the stove and fiddled in his log cabin between Carter's Run and South Run. One year it rained so hard that the area was flooded. Joseph got up several times, looked out the window, and went back to fiddling. His grandson remembers house parties in which they would pull the carpet back and dance on the wooden floor. The musicians played fiddle and banjo primarily, with an occasional guitar. It is unclear how much Joseph actually "played out," that is, played for the public instead of by the stove or on the back porch, but his influence did not end there. His influence continued through his children and his famous nephew John C. Ashby.
Joseph had two sons, Milton Moffett Ashby, Sr., (1895-1982) and Irving Council Ashby (1906-1993). Although he himself did not play, Milton Moffett Ashby Sr. had a son, Milton Moffett Ashby, Jr. (born in 1917), who taught himself to play the guitar, playing with a straight pick on a dreadnought-style guitar. He was the guitar player in the classic Free State Ramblers of the 1940s.
Joseph's other son, Irving Council Ashby, became a banjo player. Irving played a pick/strum style of banjo playing that was common in that area during the period. His wife Louise (Reid) (1912-2005) reported an incident during their courtship (late 1920s). In a cool spell, Irving put his banjo over a hot lamp to tighten up the head, but it got too close and put a hole in it instead. She was very disappointed as she had been looking forward to dancing and almost broke up the relationship over this.
Irving's son George Edward Sr. (1931-1998) did not play music. His son, (George) Edward Jr., (born in 1956) plays guitar and fiddle, and is a former member of the group Ashby Gap. Edward's son, Jason (born in 1974), is a guitar-player and singer.
The John Marshall Ashby Family and its most Renowned Fiddler, John Ashby
Although we don't know what instruments John Marshall Ashby played, we know that his son, John Chilton Ashby, born 1915, became one of the most popular and best-known fiddlers of Fauquier County from the 1930s through the 1970s.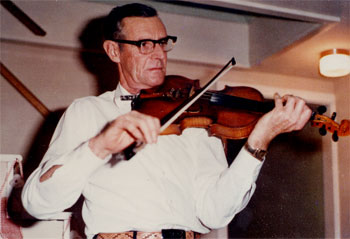 John began playing fiddle when he was 11 years old. His early influences were his Uncle Joseph, from whom he learned "Broad Run Picnic," named for a river flowing through Fauquier County, and John L. Sullivan, from whom he learned the Ashby tune played today by most old-time fiddlers, "Johnny Don't Get Drunk." John L. Sullivan was postmaster of Bealeton and "the" fiddler in the 1920s. Other influences include Walter Graham, John Sinclair, ("Rattlesnake bit the Baby"), and Cy Kines. The "Free State Hornpipe," also known as the "Hornpipe in A" or the "Hilltop Hornpipe," came from Winchester fiddler, Ralph Lamp. John is said to have composed "Ashby's Breakdown," "Going to the Free State," and the "Fauquier County Hornpipe."
John was tall and lean. His "long-bow" style of fiddling was efficient in noting, and powerful and rhythmic in bowing. It is reminiscent of that of Clark Kessinger, the West Virginia fiddler, and that of Benton Flippen, the North Carolina fiddler. John was influenced by radio, with some of his influences the Crook Brothers ("Lady of the Lake"), the Skillet Lickers ("Liberty"), Fiddlin' Arthur Smith ("Sugar Tree Stomp"), and Charlie Bowman ("Sally Ann"). Sherburn's Breakdown is similar to the Texas tune "Twinkle Twinkle Little Star." In listening to many of his tunes, I notice fewer chord changes than musicians use today and a slightly slower pace. To John, rhythm and timing were everything. Skip said that he preferred his musicians to stay on the same chord and keep time rather than to change chords and lose the timing. At one point Skip remembers John telling him to "just stay in D." John played for dances every Saturday and the type of dance required a somewhat slower but very regular timing and rhythm.
Cyril (Cy) Kines (1907-1994), a close friend and colleague of John Ashby, was active in music all his life. He spent time overseas with Connie B. Gay during World War II and played on radio station WARL in Washington, DC, where he did contract work for the U.S. Government Printing office and at the Alexandria Torpedo Factory. After retiring to Gainesville, VA, he operated the Huntingwood Motel on Rt 29/211 and farmed. He played fiddle for square dances in the Warrenton area, and played at the old Huntsman Restaurant, now Brown's Antiques, on Rt. 29 and 211. In later years he played with the Cedar Run Homesteaders for nursing homes in the Warrenton area with Loren and Rebecca Eastman, Morton MacDonald, Lowell Kline, Mark Magiolo, Bob D'Agostero, and others. One of Cy's tunes is transcribed in Christeson's The Old Time Fiddlers Repertory, vol. 2. Cy's music was heavily influenced by the Missouri fiddlers, especially Lyman Enloe, and he played several of Enloe's tunes, including "Oklahoma Redbird," and "Shaeffer's Lumber Wagon." He had several unusual tunes with unknown origins: "Courting the Girls from Baltimore" and "Lucy Neill."
John Ashby, with cousin Irving on banjo and neighbor Edgar Payne or brother Marshall on guitar, began playing together about 1930 (photograph). By the early 1940s the band had developed into a group they named the Free State Ramblers. This classic band that played from the 1940s through about 1956 consisted of John on fiddle, cousin Moffett Ashby (Jr) on guitar, John's brother Marshall on bass, Morrison Greene on mandolin, and Bill Robinson on banjo. (Photograph of John, Moffett, Morrison, Marshall, and Bill Robinson) Bill Robinson played a two-finger picking style and a frailing style. Moffett tells that after playing the two-finger style for a while Bill switched to "beating" the banjo. Moffett recalls that Robinson began coming to dances and saying that he "forgot" his banjo. Instead, he would pull out his whistle during the "Paul Jones" (mixers) to tell folks when to stop and change partners. They eventually discovered that the store had repossessed the banjo. Bill was known to "stretch a tale," to exaggerate and tell tall tales.
The name "the Free State Ramblers" has a colorful history. Sherburn Farm, the center of Ashby property, is located about 3 miles from Orlean in an area of about 12 square miles called The Free State. The first settlers had long-term leases from Lord Fairfax. However, in 1806 this land was purchased by Chief Justice John Marshall. When he tried to collect rent, his new tenants refused to pay rent, taxes, or to attend schools or church. They declared themselves independent of the U.S. and named a King. John Ashby's uncle Charlie was King of the Free State in the late 19th century. Eventually, after 25 years, the Free Staters lost in court. Meanwhile, Marshall, VA, named for the chief justice, was unsurpassed by any frontier town in the old west in its reputation as a dangerous place. Residents shuttered their windows at night to protect themselves from gunfire that erupted regularly over disputes. Residents were said to take the law into their own hands. The legend of the Free-Staters as fiercely self-reliant and independent freethinkers continues to this day. Residents of the area still tend to be wary about intellectuals, outsiders, and the government. Moffett tells that when he was in school the other kids used to make fun of folks living in the Free State as being ignorant country bumpkins.
As musicians, the Free State Ramblers gained an excellent reputation in the 1940s. Early in their career they competed in their first fiddle convention in Front Royal and John won first place. John and the Ramblers played at Constitution hall from 1938 to 1943 for the National Folk Festival. At the peak of their career, in 1946 they traveled to Cleveland, Ohio, and won the band competition. After winning another contest sponsored by Connie B. Gay in Warrenton, they played occasionally over Connie B. Gay's radio show on WARL in Washington, DC, for the two years from 1947 to 1949. They would travel from Warrenton to Washington, play 2-3 numbers, and head home. Moffett tells about the time they were hired to perform at a major hotel in Washington, DC and dressed in the stereotype of country musicians by wearing overalls instead of their usual suits. When they got there, the doorman refused to let them in, until they finally convinced him that they were hired to perform. In the Warrenton area they played for dances at places like the Rockwood Dance Hall in Warrenton (now McLanahan's Camera Shop), the Cliffton Fire Hall, and Midway Hall in Bealeton. Dances went from 9 to 1 and they made $10 a person. The dances were Paul Jones and round dances and did not need a caller. After Bill Robinson stopped playing the banjo, he played the whistle for the dances.
Although he played music every weekend for house parties and dances, music did not pay the bills. John farmed and worked as a carpenter by trade. On the staff at Airlie estate for about 11 years, he worked with other Free State craftsmen to renovate the buildings. The founder of the Airlie Foundation, Dr. Murdoch Head, remembered him as a man of "quiet dignity, good humor, and absolute integrity" (Burrage, 1975).
During the late 1940s and early 1950s the band added Everett Ashby on electric steel guitar, influenced by the steel guitar craze in that period. John's brother Marshall died in 1955 and Moffett stopped playing with the band in 1956. Moffett says that because they always had a dance or other gig on weekends, he and his wife Dorothy were never able to do anything else. He wanted to be able to have some fun and to support his three boys. So the band once again changed its personnel. At that time Moffett's son Richard and John's son Skip began playing the guitar behind John's fiddling. Ronnie Poe took over the banjo duties with his Scruggs-influenced style. On the bass they had Howard Goff or Jack Frazier on bass.
In the 1970s, John made three albums for County records. Accompanying John Ashby were cousin Richard Ashby, Ashby Kyhl, or Skip Ashby on guitar or bass, Ronnie Poe on banjo, and Jack Frazier on bass. John Ashby and The Free State Ramblers, Old Virginia Fiddling, was released in 1970 (County 727); Down on Ashby's Farm, Fine Old Fiddle Tunes, was released in 1974 (County 745); and the third album John Ashby and the Free State Ramblers, Fiddling by the Hearth, was released in 1979 (County 773).
Toward the end of his life John received national recognition. In 1978 he won first place for old-time fiddler and best all-around performer at the Galax (VA) Old time Fiddler's Convention. He played at the National Folk Festival at Wolf Trap Farm Park in Northern Virginia in 1978. John Chilton Ashby died in May 1979. He was 64 years old.
Skip Ashby – the Fiddling Continues
Skip (George Everett) Ashby was born in 1943. Skip started to play guitar at age 15 but did not join the Free State Ramblers until he got out of the Air Force in 1968. Skip has a reputation as a top-notch rhythm guitar player. He says that there was no need to learn the fiddle when he was young because there were so many great fiddlers around. However, most have passed on; to fill the gap he took up the fiddle some 20 years ago. Besides his father, Skip was influenced by fiddlers such as Benton Flippen (North Carolina), Lyman Enloe (Missouri), Pete McMahon (Missouri), and Bobby Taylor (West Virginia). He married the former Ann Davidson in 1965 and they have two children, John D. Ashby and Janet Rehanek and 4 grandchildren. The current Free State Ramblers is composed of Skip on fiddle, Richard Ashby on Guitar, Ronnie Poe on banjo, Ashby Kyhl on guitar, and T.J. Morgan on bass.
Skip is renovating the original farmhouse at Sherburn Farm and he and Ann are planning on moving there once the renovations are complete. An annual reunion at the old home place in September is renowned for its good food and fine fiddling.
The Bluemont Concert Series held a series of five concerts from 1981 through 1989 to pay tribute to John Ashby and old-time fiddling in Fauquier County, but these have not been held for more than a decade. If it were not for Skip and his band, traditional fiddling would have pretty much died out in Fauquier County.
Acknowledgements
Thanks to George Edward Ashby, Jr., Milton Moffett Ashby, Jr., Skip and Ann Ashby, and Peter Dunning for their recollections, articles, and photos of John and the Ashby family shared with me. Also thanks to Loren Eastman, Merry Robin Bachetti, and Landon Kines for information on Cy Kines.
Discography
John Ashby and The Free State Ramblers, Old Virginia Fiddling, 1970 (County 727)
Down on Ashby's Farm, Fine Old Fiddle Tunes, 1974 (County 745)
John Ashby and the Free State Ramblers, Fiddling by the Hearth, 1979 (County 773).
(There is no plan to reissue these three out-of-print Ashby recordings.)
Sources:
Burrage, Feroline. 1975. A King of the Country Fiddlers.

Piedmont Virginian

, The Plains, VA, September.
Christner, Henry. Fauquier's Free State.

The Virginia Hunt Country

. 3rd edition, pp. 14-15, 102, 1976.
The Fauquier Citizen. 1989. Concert honors Fauquier's great Fiddler,

The Fauquier Citizen

, April 28.
Love, Spencie. 1978. Ramblin' fiddle: After 50 years, Ashby's fame has grown.

The Free Lance-Star

, Fredericksburg, VA, October 23.
Meade, Guthrie, 1970. Notes to John Ashby and the Free State Ramblers, Old Virginia Fiddling, County Records 727, April 1970.
Reese, Lee Fleming. 1976.

The Ashby Book: Descendents of Captain Thomas Ashby of Virginia

. Lee Fleming Reese.
Scolforo, Mark. 1989. John Ashby tribute to recognize old-time Free State Fiddler.

The Fauquier Democrat

. Warrenton, VA, April 27.