Santford Kelly (FRC503)
by Kerry Blech, Old Time Herald Magazine
I want to be perfectly clear about my feelings about this series, The Field Recorders' Collective (FRC).  I have bought into the concept totally, from the very moment that Ray Alden told me about his plans several years ago.  There are many recording projects that are worthy and fruitful, but this one is very special, to me at least.  I've known Ray for over 30 years.  He's always been kind and helpful, generous, to me.  He's given deeply to music; usually reaching deep into his own pockets to get his projects underway, and has always acted with great integrity.  Peter Hoover, whose field recordings I will feature with reviews in this issue, made my acquaintance even before I'd met Ray.  Peter was in graduate school in Cleveland at the time, when Doug Unger introduced us.  At that time, in the early 1970s, I knew Peter had gone on field recording trips but I never had the opportunity to listen to his field tapes. In fact, I am not certain he had them available at that time.  But he answered my every question about these "legends of old-time music" that he had visited.  I now wish I'd asked more penetrating questions at that time.  I still have the opportunity, and plan on doing so, but only after I submit these reviews.  If you wish more background on Mr. Hoover's collecting, I strongly suggest that you read John Hoffmann's excellent article about it in the Old Time Herald, volume 9, number 4, May-July 2004.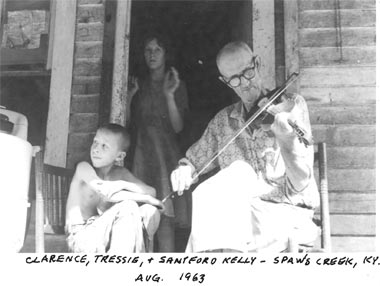 I was happily reacquainted with Peter the past two summers at The Appalachian String Band Festival in Clifftop, WV, where the FRC has held the past two CD release parties.  In August 2005, when this CD was issued, I had the great pleasure of meeting Clarence Kelly, Santford's son (he is the boy, pictured in the photo of Santford used in the OTH article referenced above), who is a current bluegrass performer based in Kentucky.  He came to see Peter and to enjoy the new CDs.  Clarence mentioned at that time that his father had taught a number of fiddle tunes to Ricky Skaggs, who also had recorded Santford at various times.
Santford Kelly was born in Lawrence County, KY in 1898 but was living at Spaw's Creek, near West Liberty, in Morgan County, KY, when Peter recorded him in August of both 1961 and 1963.  Mr. Kelly passed away in 1973.  For as much as I'd heard of Santford, also known as "Fiddlin' Sam" Kelly, and the tunes others played who attributed them to him, it was years before I ever heard his playing on tape.  Much of what I came across happened to be copies of portions of Peter's recordings.  Jeff Todd Titon had sent me a tape of Santford's playing that contained some of Peter's recordings and also tracks from sources unknown, which I believe were retrieved from the archive at Western Kentucky University.  I found listings of tapes of Santford's playing that are housed at the Library of Congress's Archive of Folk Culture and they turned out to be Peter's recordings also.  Finally locating them in the Archive of Traditional Music at Indiana University, a group of us pooled resources and purchased copies several years ago.  The raw recordings feature Mr. Kelly's commentary and introductions for nearly every tune and song.  I found these commentaries integral to my understanding and appreciation of the music, but also note that with a commercial release of this material such as the present CD, they probably would not hold up so well to repeat playing.  The FRC production gives us a taste of this, with an introduction to the initial cut, "Flannery's Dream," and with the ending track where he thanks "Mister Hoover," and farm sounds follow.  Kelly sounded quite enthusiastic and seemed to be enjoying himself immensely while sharing something he loved doing.  On a further note, at the end of a recording of Kentucky fiddler Amyx Stamper (1891-1968), John Harrod interviews Stamper's son, who had made the recordings of his father in about 1964.  Mr. Stamper then related that his father had lived in Grassy Creek, about 15 miles west of West Liberty and that he and Mr. Kelly had been known to play music together in West Liberty, though Amyx did not often go out and never drove at night, having lost an eye in World War I.  A beautiful photo of Santford, taken by Peter, graces the cover of the CD sleeve and another nice photo of Santford by Peter was used in Jeff Todd Titon's book Old-Time Kentucky Fiddle Tunes.  The sound quality on this CD is quite nice.  Peter did a good job of recording, initially, and the FRC crew did a judicious job of sound restoration.  The one thing lacking in this package is a set of detailed notes.  None are intended for the CDs themselves, as a way to keep production costs down.  I am hoping that this review might help fill in some of the blanks.  Eventually, too, there will be notes on the FRC website, http://www.fieldrecorder.com; those of you who have surfed there will note that there are some out there already for some selections, but not all.
Many interpretations and variants of "Flannery's Dream" are played in Kentucky, but I find Santford's to be my favorite of all and would even go so far as to call it a virtuoso performance.  It sets the table for the whole CD, as well, since it is quite noticeably crooked, as are most of the pieces found here.  Note that for the type of dancing done in Kelly's neck of the woods, the tunes do not have to be "square," or have 32-bar symmetry.  "The Last of Callahan" is another classic Kentucky piece, and again Kelly puts his stamp on this setting.  The "Wagner/Wagoner" family of tunes usually finds itself in a 32-bar form, but not in Santford's able hands and fertile mind.  He introduced Tennessee Wagoner, on the unedited tape, with "some people call it 'The Old Kentucky Wagoner.'"  "Forked Deer" is notable for having lots of variations worked from its basic form, and Santford's setting does not disappoint in this aspect, as he really gets around it, with a nice bunch of crookedness for good measure (or fraction of a measure, in some cases; pun intended).  On the unedited tape, Santford's daughter Tessie announced "Leather Britches."  He has a rather conventional approach to it, which does not diminish our enjoyment of it one iota.  Now, I didn't count beats, and it seems "regular," but what I think is happening is that the listener by now accepts the metric variables inherent in Kelly's music, so that it has become natural, so when some of these tunes are actually played "slightly crooked," we now feel that this is the natural way it should go.  The old standard "Turkey in the Straw" is next, crooked in parts and hinting at Fiddlin' Arthur Smith's highly influential rendition (as "Straw Breakdown").  Kelly next throws us a bit of curve, with a piece from the same tune family as Turkey, "Sugar in the Gourd;" but yet there is a difference.  By now, you'll have noticed the wonderful drive in Kelly's bowing; surely he was a favorite at the dances.
The impact and import of the next piece may be reduced a bit by not having Kelly's comment, which went, "Now, I'm going to play what the professional radio stars mostly call 'The Blackberry Blossom,' but it is not; it is 'The Blueberry Blossom,'" after which he plays the tune closely associated with Fiddlin' Arthur Smith.  He added, too, "…and after this I'll play the regular 'Blackberry Blossom,' to let you distinguish the difference in those two pieces."  As you might expect, both tunes are notably crooked in Kelly's hands, though "Blackberry Blossom" is even more so, and quite similar to the way Ed Morrison played it.  (Morrison's ancestor was reputed to be the soldier who brought it back from the military campaign on the Big Sandy River during the War Between the States, per Jean Thomas's account as well as from local legend.)  It sounds to me that Morrison's family setting is what Ed Haley based his version on.  Next is my favorite piece on the entire CD, the programmatic tune known as "The Fox Chase."  Kelly's deleted introduction proceeded as follows, "We tried to have a real Fox Race last night, but I'm a-gonna put on an imitation Fox Race at this time," and by gum he did, including the fiddlistic imitations of the fox and the hounds and accompanying vocal noises.  Simply lovely.  He follows with a tune title that has numerous melodies, and stories, attached, "The Last of Sizemore."  This is a particularly crooked tune, by the way.  Kelly relates a story about how the old man Sizemore was sick and in his bed and asked for his fiddle to play one last piece while he lived; and the people got his fiddle down and he played it.  He went on, saying that a fellow was outside the window and heard the piece and played it after Sizemore was dead and named it after him.  Another "standard" that nearly everyone plays differently is "Cumberland Gap."  I am sure you will hear familiar strains in it, as I did.  Though I haven't tried to track any down as to sources (yet), I suspect that Leonard Rutherford's is in there somewhere.  Kelly gets on a roll with standards, following with "Black-Eyed Susie," "in D, an old-time piece," and a crooked (natch') "Billy in the Low Ground," in C.  I suspect some additional Burnett & Rutherford influence here.
One of the great showpiece tunes in Kelly's part of the state is Humphrey's Jig.  Kelly explained, "…I don't know too much about the background on this piece more than I heard when I was a real small boy.  Poor old Jim Beck Mays [KB: I am not sure of this name, but this is what it sounds like he is saying] in Elliot County played it and he was an old man then.  But I couldn't play it at that time to amount to anything, so here it goes…" and he launches into yet another variation on this theme.  It has a contour that one will recognize as Humphrey's Jig, but it is distinctly its own tune at the same time.  He follows with "Crow Shot the Buzzard," which he says was "used for a 'play' [party] when" he was a very small boy.  His melody reminds me a bit of "The Wearin' Of The Green."  He introduces the following number as "An old piece I made up for myself, 'I Love My Honey, I Do.'"  This one is very reminiscent of the plucked/strummed fiddle string recordings of Fred Cockerham that I've heard.  Santford does a really nice job of singing and playing this one.  Mr. Kelly describes the next piece being in "'A' all the time," apologizes for getting tired and for the stiffness in his fingers and for his not having practiced much, but then plays a very nice "Train 45" with vocal.  His "Paddy on the Turnpike" is pretty much the standard setting, except for his omnipresent crookedness.  Similarly, "Sally Goodin" echoes familiarity yet sounds fresh in his able hands.  A number of different West Virginia and Kentucky melodies share the title "Wild Hog In The Red Brush" [it almost sounds like he says "Red Bank" though]; this has melodic contours resembling those of "Snowbird in the Ashbank" and "Paddy on the Turnpike," but again, there is a noticeable difference.  If you are a John Salyer fan, or know someone who is, you will quickly recognize Kelly's playing of "Lonesome John," which I suspect was a regional favorite.  Kelly also plays this on clawhammer style banjo later on this recording, both the fiddle and banjo renditions being executed beautifully.  Kelly's "Dusty Miller," in A, seems to be the forerunner of at least one of what became a standard bluegrass instrumental, but with more grit than what the 'grassers put into it.  I automatically said it was a forerunner, but it was not unheard of for old-timers to take a more modern bluegrass or Nashville country fiddle piece and turn it into an archaic-sounding gem, so I'd be curious to find out exactly where Santford Kelly learned this tune.  Kelly plays a few more fiddle tunes before addressing the 5-string: "Jenny Put the Kettle On," "Whitesburg of Old Kentucky," and the "state anthem of Kentucky," "Martha Campbell." "Whitesburg" has gotten a lot of mileage in recent years due to a popular CD recording of it by The Rhythm Rats, who learned it from a tape of Mr. Kelly, I believe.  At this point, Mr. Kelly shows his great skill with his driving clawhammer banjo style, starting with "Lonesome John."  "Jenny Put the Kettle On" has a wonderful phrase featuring three successive fifth-string thumbings, with some other string noise occurring simultaneously, hearkening a bit to what some folks call the "Galax lick," but raising the Galaxians one thumb.  "Yeller Gal," a song with banjo accompaniment and hokum, is but a nice reworking of Uncle Dave's "(She Was Always) Chewing Gum."  Kelly makes great note and rhythm choices for his setting of the classic song "Charlie's Sweet."  The CD finishes with Kelly on two more fiddle numbers before his "farewell" and the ambient farm noises.  His setting for the locally-popular "Sweet Susan" is absolutely wonderful, featuring a driving bow.  His last tune, in AEAC# tuning, is "Sweet Laurel," which seems to have a lot of structural similarity to the version of "Lost Indian" that is played in this tuning.  He really gets into it, with whooping, talking over his playing, and calling dance figures.  It is a great ending to a wonderful recording and something that I give my highest recommendation to.  Try it, you'll like it.