See Texas Fiddle Bands (FRC409) and P.T. Bell (FRC410)
From various sources
William A. Owens, a Folklorist, Author and Professor, Dies at 85
By Joan Cook Published: December 12, 1990
William A. Owens, a folklorist and author who taught at Columbia University for 28 years, died on Saturday [Dec. 1990] at the Ramapo Manor Nursing Center in Suffern, N.Y. He was 85 years old and lived in Nyack, N.Y. He died of complications from Alzheimer's disease, a spokesman for the family said. He joined the Columbia faculty as an English teacher in 1945 and became a full professor in 1966. He was director of the school's summer session from 1959 to 1969, when he was named to the new post of dean of the summer session. He retired in 1974 with the titles of dean and professor emeritus.
He was writer in residence at Texas A & M University in 1976 and visiting professor at the University of Texas in Austin in 1978.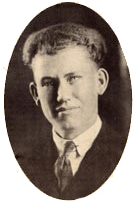 Professor Owens was the author of 16 books, on subjects that include the origins of American folk songs, the beginning of the slave trade and his own youth in East Texas. "This Stubborn Soil" (Scribners, 1966), an autobiographical memoir of a boy growing up to become a teacher, won the Texas Institute of Letters award. "Slave Mutiny: The Revolt on the Schooner Amistad" (John Day, 1953) told of the 1839 revolt of 54 Africans on a slave ship and the process by which they were captured, tried for piracy and murder and then exonerated by the United States Supreme Court.
Mr. Owens, who was born in Blossom, Tex., graduated from Southern Methodist University in 1932 and received an M.A. in 1933. In 1941, he received a Ph.D. from the University of Iowa. En route to academe, he was a Baptist preacher, stockboy for Kress variety stores, magazine salesman, reporter, hash slinger and cotton picker.
From 1942 to 1945, he served in the Army and was awarded the Legion of Merit. His most recent book, "Eye-Deep in Hell" (Southern Methodist University Press, 1989), dealt with his experience in the Counter Intelligence Corps in the Philippines during World War II.
He is survived by his wife, the former Ann Slater Wood; a daughter, Jessie Ann, of Medford, Mass., and a son, David Edward, of Manhattan.
OWENS, WILLIAM A. (1905-1990)
By James Ward Lee
William A Owens, folklorist, author, and professor, was born in the Lamar County hamlet of Pin Hook about twenty miles northeast of Paris on November 2, 1905. He was the son of Charles and Jessie Ann (Chennault) Owens. His father died within a few days after Owens's birth, and the boy spent his early years helping his mother and his older brothers scratch a living from the worn-out red soil of Lamar County.
His education was spotty in his early years, for he was never able to go to school for more than a few months at a time, and, as he tells in his first volume of autobiography, This Stubborn Soil (1966), the school at Pin Hook was only open about three months a year. Owens learned to read and write, and when he met a poorly educated crosstie cutter who owned twenty-five books that he was willing to lend, young Bill read all the tiehacker's books and resolved to devote his life to reading and study.
At the age of fifteen he moved to Dallas to live with an aunt and work, on rollerskates, filling catalog orders at Sears and Roebuck's huge mail-order warehouse. Later, he found a job washing dishes for a Catholic school and saved enough money to attempt study at East Texas State Normal College in Commerce (now Texas A&M UniversityムCommerce). Despite his lack of education, he made a high score on the entrance exam and was allowed into the college's high school program in 1920. These early years are detailed in This Stubborn Soil. The filmmaker James Lipscomb turned some of the early material from This Stubborn Soil into a PBS television program entitled Frontier Boy.
In the second volume, A Season of Weathering (1973), Owens tells of his years teaching school at Pin Hook and other East Texas schools beginning in 1928, working in the Kress store in Paris, taking courses at Paris Junior College, and ending up at Southern Methodist University in Dallas, where he took his bachelor's and master's degrees in 1932 and 1933 respectively. His master's thesis, published as Swing and Turn: Texas Play Party Games (1936), grew from all the years Owens had spent hearing and singing the old English and Scottish ballads that were a part of his East Texas heritage. "Play parties" were the dances of religious fundamentalists who forbade dancing to music unless it was without fiddles, guitars, and other instruments.
As Owens tells in his third volume of autobiography, Tell Me a Story, Sing Me a Song (1983), he spent much of the thirties collecting folksongs, teaching at Texas A&M University, and completing his Ph.D. at the University of Iowa. Working partly on his own and partly for the Extension Division of the University of Texas, he recorded songs from East Texas to the Cajun Country of the Texas Coast to the Mexican border, using a secondミhand Vibromaster recorder. The records were played with bamboo or cactus needles. Owens later worked closely with J. Frank Dobie, Walter Prescott Webb, and Roy Bedichek.qqv Bedichek was the director of the Extension Service's Interscholastic League and Owens's employer for part of his time as a collector of songs. Owens's close relationship with "the old three" led to his publishing Three Friends (1969), a collection of letters that Dobie, Bedichek, and Webb wrote to one another. It also includes a running commentary by Owens on his relationship with the three men. A later book that grew from his folklore-collecting days was Tales from the Derrick Floor: A People's History of the Oil Industry (1970), which he edited with Mody C. Boatright,qv Dobie's successor as secretaryミeditor of the Texas Folklore Society.qv
As Owens notes in Tell Me a Story, Sing Me a Song, he entered the University of Iowa in 1937 after he failed the entrance examination at the University of Texas. Encouraged by Professor Edwin Ford Piper, he took his folklore collection to Iowa and turned it into his dissertation, later published as Texas Folksongs (1950), a book still in print. He received his Ph.D. from the University of Iowa in 1941, and he claims that one of the influences on his writing there was the painter Grant Wood. Owens drove for Wood and learned from him something about cleanness and clarity of style.
In 1942 he joined the army as a buck private and was assigned to the intelligence branch. One of his postings was to Tulsa, Oklahoma, where because of the Tulsa race riots of 1921 the government feared that blacks might revolt against the United States. Owens's job was to attend black churches in his capacity as a folklorist in order to take the temperature of African Americans about America's war effort. Needless to say, he found no disloyalty among blacks, and from his Oklahoma experience came his best novel, Walking on Borrowed Land (1954), the story of a black teacher from Mississippi who was hired to be principal of a segregated school in the "Little Dixie" section of Oklahoma. This book won the Texas Institute of Lettersqv 1954 prize for best first novel by a Texas writer.
Owens served in the Philippines during the war and wrote of his experiences there in his fourth volume of autobiography, Eye Deep in Hell (1989). He was awarded the Legion of Merit. He joined the faculty of Columbia University in 1947 and remained there until his retirement in 1974. He was professor of English and dean of the summer session there for many years.
In addition to his collections of folklore and his four volumes of autobiography, Owens wrote the novels Fever in the Earth (1958), set at the Spindletop strike in 1901; Walking on Borrowed Land (1954); and the novelette Look to the River (1963). In 1985 he and Lyman Grant edited the letters of Roy Bedichek, Owens's old boss at the UT Extended Education Division and one of the Texans he most admired. Owens also wrote Slave Mutiny: The Revolt of the Schooner Amistad (1953), which provided much of the material for a Steven Spielberg film, Amistad (1997). In 1975 he wrote a family history, A Fair and Happy Land.
Owens married Ann Seaton Wood on December 23, 1946, and had two childrenムDavid, director of business systems for a large accounting firm, and Jessie Ann, dean of arts and sciences at Brandeis University. Jessie Ann Owens, a musicologist, provided the notations for her father's collections of songs and ballads. Owens lived the last years of his life in Nyack, New York, where he died on December 8, 1990.
BIBLIOGRAPHY: Bert Almon, This Stubborn Self: Texas Autobiographies (Fort Worth: TCU Press, 2002). James W. Lee, ed., William A. Owens: A Symposium (Denton: Trilobite Press, 1981). William A. Owens Papers, Cushing Memorial Library, Texas A&M University, College Station. William T. Pilkington, William A. Owens (Austin: Steck – Vaughn, 1968).
William A. Owens: A Biography
A Centennial Celebration Sponsored by: Paris Junior College, Paris, Texas, Texas A&M-Commerce, Commerce, Texas
William A. Owens was born on November 2, 1905 in a small community approximately 15 miles northeast of Paris, Texas called Pin Hook (in Lamar County.) Some sources indicate he was born in Blossom, Texas (Lamar County.) Owens was a poor farm boy who worked in the fields of home; attended a rural Lamar County school whenever he could; and learned by reading every book he could find. Even though he never received a high school diploma, Owens seemed to have a compulsion for education and writing. In 1925 he passed the entrance examination to the sub-college department at East Texas State Teachers College at Commerce, Texas. The same year, he went to Paris Junior College at Paris, Texas. At the age of 26, William Owens completed studies at Southern Methodist University and earned a Bachelor of Arts degree. The following year, in 1933, he earned the M.A. degree and in 1941 a Ph.D. from the University of Iowa.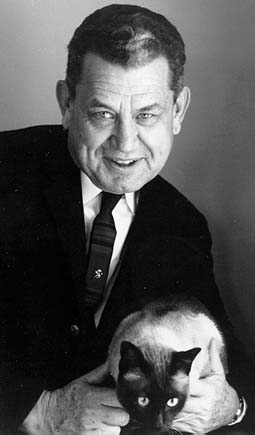 Owens' teaching career started back at Pin Hook, Texas. Over the duration of his career, he taught at Wesley College at Greenville, Texas; had an English position at Texas A&M from 1937 to 1947; became the Director of Research in the Oral History project at the University of Texas at Austin, Texas in 1941; and had a professorship at Columbia University in New York.
Owens' teaching career was interrupted during World War II when he enlisted. As a member of the U.S. Army's Counter Intelligence Corps he was involved in counterintelligence activities in the United States and the South Pacific. He was awarded the Legion of Merit for his service in the Philippines.
Shortly after World War II, Owens journeyed to Columbia University in New York. There he pursued post-doctoral studies in the writing program. After a short transition from student to instructor, Owens began a brilliant career as professor and writer. In 1966 he became a professor of English at Columbia. Beginning in 1969, he served as the Dean of Columbia Summer Sessions. He retired as professor emeritus in 1974.
Throughout his career, Owens wrote several major works and numerous articles. Most of his works are about Texas and Texas folklore. There are three books in his autobiographical works chronicling his East Texas background and professional life: Walking on Borrowed Land (1954), This Stubborn Soil (1966), and A Season of Weathering (1973.) An additional volume, Eye Deep in Hell (1989), tells of his experiences during World War II.
Besides his autobiographical series, Owens' other works include: Texas Folk Songs (a collection of songs, ballads, and spirituals); Tales from the Derrick (a collection of oil-field folklore co-authored with Mody C. Boatright); Look to the River (the fictional story of the adventures of two boys in Texas frontier country); Three Friends (letters from fellow Western writers Roy Bedichek, J. Frank Dobie, and Walter Prescott Webb); Black Mutiny: The Revolt of the Schooner Amistad (detailing the anti-slavery case which John Q. Adams argued before the Supreme Court in 1841) and A Fair and Happy Land (a unique chronicle of the opening of the American frontier.) Black Mutiny: The Revolt of the Schooner Amistad was used as the basis for the motion picture Amistad (Dreamworks, 1997.)
Owens' writing style is rich and vivid, demonstrating his masterful skill of observation. To those who knew him personally, he was an engaging, brilliant story-teller. New readers of his works will find his stories immediate and honest. He presents an unflinching look at people living, surviving, and flourishing in extraordinary times.
During his career, Owens won several awards including from the Texas Institute of Letters, National Endowment for the Humanities, and Southwest Library Association. In 1946 William Owens married Ann Slater Wood of New Jersey. They had two children, Jessie Ann and David Edward.
William Owens died of complications from Alzheimer's disease on December 12, 1990, in Suffern, New York. (Many thanks to Dwight Chaney for allowing the use and of his brochure "From Pin Hook to Manhattan: William A. Owens Author, Folklorist, Teacher" as a basis for this narrative biography.)
Contacts:
Dr. James Conrad, University Archivist, Texas A&M University-Commerce, P.O. Box 3011, Commerce, Texas 75429-3011, Office: 903.886.5463, Fax: 903.886.5723 James_Conrad@TAMU-Commerce.edu
Mr. Dwight Chaney, Dean of Arts & Sciences, Paris Junior College,
2400 Clarksville Street Paris, Texas 75460-6298, Phone: 903.782.0338, Fax: 903.782.0213, dchaney@parisjc.edu
William A. "Bill" Owens
Much of this information was taken from a 1986 Bryan-College Station Eagle article by Hugh Nations.
Every region has its way of life, but not many regions have been as fortunate as East Texas: only a few have produced literary interpreters as skilled, as sympathetic, and as acutely observant as William Owens." (William Pilkington)
The Cushing Memorial Library holds the personal papers of William A. "Bill" Owens, noted Texas folklorist and author. Born in 1905 in a small east Texas town near the Red River, educated in a one-room schoolhouse that ran maybe five months out of the year, Bill Owens became one of Texas' leading writers.
Smitten with the fervor to write somewhere near the fifth grade, Owens attended East Texas State Teachers College, Paris Junior College, and Southern Methodist University. In 1936, he entered the University of Texas graduate school but transferred to the University of Iowa where he obtained a doctoral degree in 1941. As he sought his degrees, he also taught, his first job being in his hometown of Pin Hook. During the ensuing years, Owens taught at Wesley College at Greenville, Mississippi State College, Texas A&M, Columbia University in New York and served as director of research in folk materials at the University of Texas.
Owens produced a dozen major works and numerous articles. Most of these articles, with the exception of Slave Mutiny: The Revolt of the Schooner Amistad, are about Texas and its folklore. He was cited three times by the Texas Institute of Letters for outstanding books, including an award for best first novel in 1954 with Walking on Borrowed Land, and for This Stubborn Soil in 1966, a work called the best of its kind ever written by a Texan. Another of his books, Season of Weathering, won the 1974 Southwest Library Association's award for best nonfiction book. His many honors include being named a lecturer in 1971-73 for the National Humanities Series at Princeton.
Owens' collection documents his teaching and writing career from 1928-1980 and includes personal correspondence, books, book manuscripts, book reviews, articles, short stories, speeches, photographs, and aluminum disc recordings made by Owens of various folksingers and musicians in the South. Items of special interest in the collections include lyrics to many folksongs and recordings made by Owens in the 1930's and 1940's, as well as recorded readings of Robert Frost, interviews of early Texas oil pioneers, legal papers concerning the plagiarism of Slave Mutiny, histories of World War II, and letters of Roy Bedichek, J. Frank Dobie, Walter Prescott Webb, and Mody C. Boatright.
The majority of the collection was purchased from Dr. Owens in 1977 with the assistance of the Friends of the Texas A&M Libraries and the Texas A&M University Association of Former Students. The collection is divided into three parts, based on order of their receipt. Finding guides for each division are available online.
Web sources:
"Tell me a Story, Sing me a Song" FOLK MUSIC. Francis E. Abernethy
Folk music is musical material that usually originated in the forgotten or dimly remembered past and has been passed from one generation to the next down to the present. It exists in the forms of tunes, songs, and ballads. Folk tunes are traditional melodies such as those played by fiddlers. Folk songs are melodies with accompanying verses. Ballads are folk songs that tell stories. Some folk music is utilitarian; that is, it accompanies an activity such as work, worship, or dance. Other folk music exists just for the stories it tells or the feelings it expresses. Texas folk music is "Texas" only because it passed through the state during the course of its transmission. Its traditional nature means that it was played or sung long before being brought to Texas.
There are as many varieties of folk music in Texas as there are cultures that came to Texas. Anglo-Texan folk music, the dominant strain, has taken the forms of tunes, songs, and ballads. Much of the history of Texas is accompanied by folk music. "Shoot the Buffalo" and "Texas Boys" describe early attitudes toward settling Texas. "The Greer County Bachelor" and "Little Old Sod Shanty" tell of life on the Texas frontier. "Buffalo Skinners" is the story of the rigors of a buffalo hunt in the 1870s, and "The Old Chisholm Trail" describes the life of the Texas trail-driving cowboy of the same period. According to tradition, Texans marched into battle at San Jacinto to the tune of "Will You Come to the Bower?" They fought the Mexicans again in 1846, to the sweet strains of "Green Grow the Lilacs." Fifteen years later Hood's Texas Brigadeqv marched off to the Civil Warqvto the "Yellow Rose of Texas." "Texas Rangers" was a song about one of that heroic group's early adventurers, and "Sam Bass" was a ballad about the other side of the law. Later events such as the Galveston hurricane of 1900,qvthe Dust Bowl and Great Depression,qqvand the Kennedy assassinationqvwere memorialized in folk songs. Now, however, topical folk songs have generally lost out to news media and copyrighted popular music.
In Texas, as elsewhere, children's songs fall into two categories, songs sung to children and songs sung by children. The first song a child usually hears is a lullaby like "Babes in the Woods," sung to the child to put it to sleep. Then children are patty-caked, bounced, and counted to in chants and songs whose purpose is to entertain. These simple songs and later more complicated traditional songs, such as "Froggie Went a-Courtin'" and "Fox Is on the Town," are sung to children. The songs sung by children are simple and basic. They begin with simple game songs like "London Bridge," grow to elaborate jump-rope chants and songs, and conclude with such crudities as "The Monkey Wrapped His Tail Around the Flagpole." Perhaps the last realization of children's songs is the fraternity-party song.
Love has spawned a world of songs and ballads that have made their ways into the Texas repertoire. The most venerable of these were Child's ballads, so called after Francis James Child's English and Scottish Popular Ballads (1882-98). Two of the best known of these in Texas were "Barbara Allen" and "Fair Eleanor." Both of these ballads told stories of love affairs that ended in death. Many other English ballads not blessed with the stamp of Child's approval came to Texas. These included "My Horses Ain't Hungry," "Roving Gambler," and "Little Sparrow." Most Anglo-Saxon love songs, including "Wildwood Flower," "Fond Affection," and "Columbus Stockade Blues," relate in some way to the Old World. "Careless Love" is an Anglo response to the black blues tradition. Such love ballads as "Rosewood Casket" and "Bury Me Beneath the Willow" filtered down into the folk idiom from Tin Pan Alley. Though these late-nineteenth-century weepers were not authentic folk music, they became a much-loved part of the singing traditions of Texas.
One of the most popular forms of folk music on the Texas frontier was square-dance music with a lead fiddle. The tunes played were old jigs and reels and hornpipes that were ancient in the British Isles when the settlers first came to the New World. Many of the tunes, like "Irish Washerwoman," "The Campbells are Coming," and "Sailor's Hornpipe," stayed close to their originals. Most underwent subtle and gradual changes as they were passed along from one fiddler and generation and area to another, and now only a hint of their Old World ancestry remains. Most of the early dancing was group dancing, for which a leader called the steps and patterns while the music was being played. Sometimes fiddle tunes became songs when lyrics were thrown in between calls. In the evolution of some fiddle-dance songs-"Sally Goodin," "Cindy," "Cotton-Eyed Joe," and "Old Joe Clark," for instance-the calls were dropped and the words became almost as important as the tunes. Fiddlers took their tunes and songs from everywhere, but their richest source during the nineteenth century was black minstrelsy, where they found the classic "Arkansas Traveler," "Turkey in the Straw," "Buffalo Gals," and "Old Dan Tucker." The purest of old-time fiddle music can best be found nowadays at fiddle contests held all over Texas, for instance at the annual Crockett World Champion Fiddler Contests held on the second Friday of June. Some of the favorite tunes played there and at other Texas contests are "Billy in the Low Ground," "Sally Johnson," "Durang's Hornpipe," "Devil's Dream," and "Tom and Jerry." Such fiddling dance music as that played by Bob (James Robert) Willsqvand Milton Brownqv in the 1930s became modern country music.qv
Another folk song-and-dance tradition is the play party. Many early Texas settlers were fundamentalists who believed that dancing and fiddle music were sinful. They satisfied the universal urge to move to music with the play party, which was song-accompanied dance that allowed no instruments. They called their rhythmical group movements "marches" or "games," they danced in rings or in longways formations but never in squares, and they swung each other by hand, never by the waist. They used many popular dance tunesム"Old Clark," "Old Dan Tucker," "The Gal I Left Behind Me," "Willis in the Ballroom"ムbut because of the lack of instrumental music, the words became all-important. Play-party songs have preserved many stanzas that were lost in the fiddle-dance tradition. A play party usually began with a choosing game such as "Needle's Eye" or "Hog Drovers," then progressed to ring-game songs like "Saro Jane" or "Coffee Grows on White Oak Trees," and in full swing went into longways dances like "Weevily Wheat," "Little Brass Wagon," and "Baltimore." Play parties were not only popular among fundamentalists; they were necessary when no musician was around. In spite of the reservations laid on the players by their elders, play-party songs and formations were just as joyful and exuberant as their sinful fiddling square-dance counterparts.
One of the richest veins in Texas folk music is its religious strain, and the particular kind to which the state owes the most is Sacred Harp music, named after B. F. White's 1844 songbook, Sacred Harp. The tunes and words in this book, still much used in Texas, go back to the Great Revival on the southern frontier at the turn of the nineteenth century, then beyond to the British Isles. Southern preachers found themselves with vast congregations and no songs, so they took familiar popular tunes and put religious words to them. A ballad about Captain Kidd the pirate became "Wondrous Love," and "Auld Lang Syne" became "Hark! From the Tomb." Music in this tradition also employed easily remembered single lines and repeated refrains, in which substitutions of words prolonged the song and increased its intensity. "We Have Fathers Over Yonder," with its simple refrain "Over yonder ocean," could continue as long as substitutions could be made for "fathers." The same was true with the song that began, "You [or "Father," "Mother," "Jesus," etc.] got to walk that lonesome valley." A final influence on Sacred Harp singing was the eighteenth-century singing schools that taught shaped notation. Because it is written in the shaped notes called, since medieval times, fa, sol, la, etc., Sacred Harp music is also called fasola music. The fasola tradition and the "fuguing tunes," whose counterpoint and joyful play of rounds was popular with early singing masters, lost their popularity in the East but became a vehicle for religious enthusiasm in the South and an integral part of Sacred Harp singing, which often lasted all day and was accompanied with "dinner on the grounds."
A modern outgrowth of early Sacred Harp is gospel music.qv It is livelier than Sacred Harp, more concerned with the play of tune and tempo, and more optimistic in tone. It started to develop at the beginning of the twentieth century and culminated in 1926 with the founding in Dallas of the Stamps-Baxter Music Company.qv Stamps-Baxter music used the idioms of jazzqv and popular music and incorporated most modern instrumentation. All-day gospel singing can be found in just about any county in Texas on any weekend. It is a religious folk-music form that is still growing.
Though cowboy songs were sung all across the cow-country frontier of the United Sates, these folk songs and ballads are still most closely associated with Texas. The Texas cowboy originated in the 1860s and 1870s, when cattlemen began trailing herds to the newly established railheads in Kansas. His skills were derived from the vaquero,qv his Spanish and Mexican forbear, who had been working large herds for 300 years. The cowboys' mores were Southern. Many men left their Southern homes after the surrender at Appomattox to start again in Texas, and they brought with them the hymns, minstrel songs, and sentimental ballads that were their tradition. Some of the old songs were rewritten to fit the new way of life. "Little Old Log Cabin" furnished the tune for "Little Joe the Wrangler." An old song about a dying English soldier became "The Streets of Laredo." The sad tale of a sailor buried at sea became "Bury Me Not on the Lone Prairie," and "My Bonnie Lies Over the Ocean" furnished the tune for "The Cowboy's Dream." Some cowboy songs exist in differing versions, one traditional and one written. D. J. O'Malley claimed "When the Work's All Done This Fall," and Jack Thorp wrote "Little Joe the Wrangler." Both men put their lyrics to tunes already traditionally circulating.
In the 1930s, cowboy songs and the cowboy mystique formed the basis for western swing, which was the primary antecedent of modern country music.
Country music, the modern heir to traditional Texas folk music, incorporates both the earthy themes of traditional music and the elemental three-chord sounds. Country bands also regularly include such folk classics as "Cotton-Eyed Joe," "Wildwood Flower," and "Careless Love" in their repertoires. Commercial country music, which developed in the 1920s, combined Anglo folk music, old-time religion, and elements of nineteenth-century show business. See also AFRICAN AMERICANS, CZECHS, GERMAN MUSIC, BLUES, CORRIDOS, MUSICA NORTEБ, FOLK FESTIVALS, MILTON BROWN AND HIS MUSICAL BROWNIES, and FUNDAMENTALISM.
BIBLIOGRAPHY: Francis Edward Abernethy, Singin' Texas (Denton: University of North Texas Press, 1994). John A. and Alan Lomax, Cowboy Songs and Other Frontier Ballads (New York: Sturgis and Walton, 1910; rev. ed., New York: Macmillan, 1945). Bill C. Malone, Country Music U.S.A. (Austin: University of Texas Press, 1968). William A. Owens, Swing and Turn: Texas Play-Party Games (Dallas: Tardy, 1936). William A. Owens, Tell Me a Story, Sing Me a Song (Austin: University of Texas Press, 1983). William A. Owens, Texas Folk Songs, Publications of the Texas Folklore Society 23 (Austin: Texas Folklore Society, 1950; 2d ed., Dallas: Southern Methodist University Press, 1976).