September 2009
Our dear friend and the founder of the Field Recorders' Collective died this fall after a long and valiant struggle with cancer.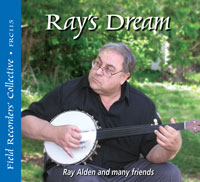 During the last project-filled months of his life, Ray worked to restructure the Field Recorders' Collective as a new not-for-profit entity under expanded leadership. The current officers of the new FRC include Ambrose Verdibello, Executive Director, Lynn Frederick, Secretary and Susie Goehring, Treasurer. Susie is handling the orders and fielding special requests; it is her email address that is on this website. The seven board members include the officers as well as Diane Alden, Ray's wife, Jim Garber, John Schwab and Kilby Spencer. By continuing to preserve and produce recordings of valuable and original performances of traditional old time music, the board members of the FRC are dedicated to sustaining Ray's vision of the FRC.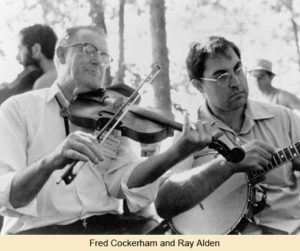 As a tribute to Ray and his longtime work and love of old time music, Bruce Molsky and the FRC produced "Ray's Dream," a very special collection of Ray playing with many of his friends. It was Ray's request that this CD be produced and distributed at the service celebrating his life which was held in November of 2009. You can buy here.
Field Recorders' Collective on NPR
Remembering Some Remarkable Lives Lost In 2009 – Talk of the Nation (December 30, 2009) – Paul Brown's remembrance of Ray Alden starts around 33:00 and lasts about 5 minutes. Listen here:
Saving Folk History, One Recording At A Time (January 22, 2009)- Click on "Listen Now" at the top of the page to hear the actual broadcast. David Gura did a LOVELY job and it is interesting to boot. Listen here:
Field Recorders' Collective in The Old Time Herald
Paul Brown's memorial, The Connector: Ray Alden appears in The Old-Time Herald Volume 12, Number 2.