Vernon Spencer of Big Springs, Kansas – FRC726

by Tricia Spencer
Vernon Douglas Spencer was born September 22, 1921, on the family farm in Big Springs, Kansas. He was the baby of 11 children born to his parents Harley and Cora and around the age of 4 or 5, he asked his daddy for a fiddle. He was given a fiddle and Vernon taught himself how to play learning tunes and songs that were popular on the radio as well as tunes that his daddy played on the harmonica. Music was a large part of Vernon's life from an early age. Living off the land, hunting, and music were done daily. Vernon's grandaddy left Louisville, KY, at the age of 15, and it was this generation that bought land in Big Springs and brought along a part of Kentucky with them.
Vernon Spencer was my grandpa. When I was about 5, my grandparents gave my dad 5 acres on the back side of their property. There were a couple of fields, ponds, and pastures between our houses. When I was about 9, I saved up enough money from fiddle contests to purchase myself a pony. On the weekends, my favorite thing to do was pack a lunch, hop on my pony, and ride to my grandparents' home. While there, I would just join in what my grandparents were doing. Sometimes it was target shooting, playing cards, and often making music. I still have fond memories from when I was quite young falling asleep while they were still playing tunes or songs.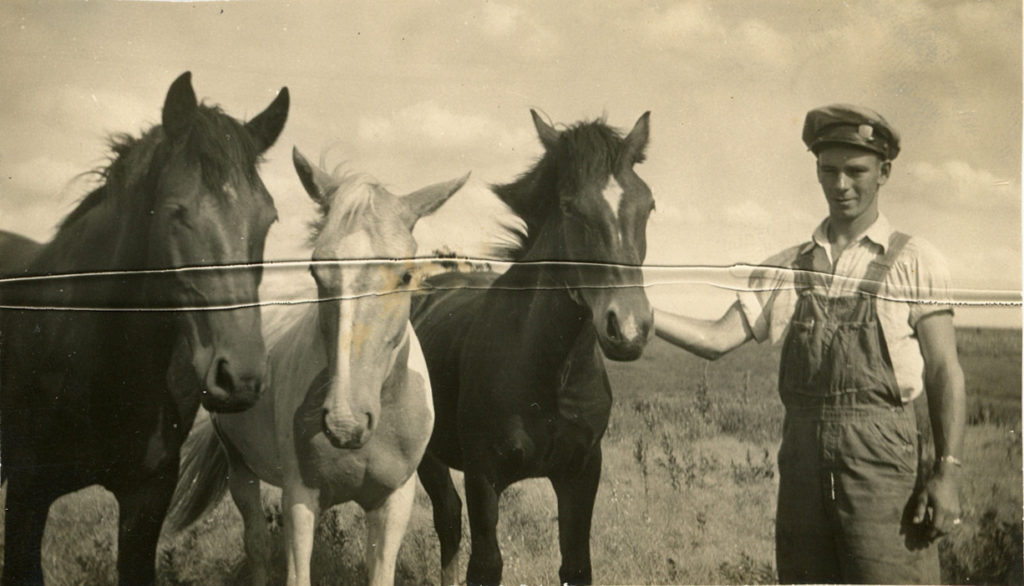 About a half-mile up the graveled road into the main strip of Big Springs was my grandpa's gas station, Spencer's Skelly. He would be there daily, sitting on his chair fiddling until someone pulled up for gas. He would hang his fiddle up and saunter out to pump gas. Most of the businesses left Big Springs long before I was born, so the gas station was really the only place to meet folks and get groceries that didn't require a half-hour drive for locals. In the gas station there was a large meat case roughly 6 feet long which held mainly a big block of cheese and bologna. I can't remember when it broke down and quit working, I might have been about 10. Instead of hauling out the meat case, he started putting fiddles in there that he accumulated from a friend who went to auctions. Each day, the bus dropped me at the gas station after school and I would immediately go to the meat case to retrieve one of the playable fiddles. Between customers, he would teach me tunes or back me up on the tunes I was working on. When my grandpa passed away, he had over 80 fiddles.
My grandma, Iona Spencer, told me that Grandpa loved fiddling. The first night they met, he played "Missouri Waltz" for her. She was smitten with him. He was with her as well, but he told her that if she wanted to marry him, she would have to learn how to play guitar. She went out and purchased a $5 guitar at a pawn shop and learned how to back him up. They were married in 1946 and that year, he took her out and bought a better guitar for $38 at a pawn shop. That guitar hangs on my wall and I and my children still play it.
My grandparents were poor. Grandma talks about how they had almost nothing when they started out. My great-grandparents allowed grandpa to build a one-room shack near the main house on their property. They salvaged wood, cabinets, and other items from places being torn down nearby and added to the one room shack. Their house became a series of rooms that were added as they had children. The property was to be Grandpa and Grandma's if they stayed and took care of his aging parents. I remember my grandma taking care of my great-grandpa Harley in their home for his final days.
Grandpa was a farmer and did some trucking for one of his brothers. I know most of my grandpa's siblings made music. Great uncle Lloyd, Grandpa's brother, enjoyed singing and playing guitar with Grandpa. We have some 78s that the family made back in the '50s. I have never heard them as they are in poor condition, but I like looking at them and the titles. One that makes me chuckle is labeled "Goldon Slippers." My dad, Rod Spencer, says that when he was young, he loved sitting around listening to his dad and uncle make music, his dad on fiddle or mandolin and his uncle Lloyd on guitar. Dad says they sang so well together and often had gigs in the community.
During the Vietnam War, Dad was in the Navy, and once he left home, he taught himself all of Grandpa's fiddle tunes on the mandolin as well as teaching himself to play 3-finger banjo. Some of the reel-to-reel recordings were of my grandparents sending music and stories to my dad while he was stationed away. Once he came home, he and my mom, Pat Payne, started learning my grandparents' repertoire as well as adding new material. Grandpa purchased the Skelly gas station there in Big Springs about the same time Dad came home from the Navy. Dad ran it while my parents were waiting on me to be born. Dad tells the story of how he wasn't sure how he was going to pay for me. Grandpa told him to start fixing tires and put that money away. He did, and by the time I was born, they had enough to pay for me. After a few years, Grandpa took the gas station back over and it became my home after school.
Around the late 1960s and early 1970s, they were inspired to put together a family band. When I was born in 1971, the family band consisted of my grandpa (fiddle, mandolin, tenor guitar, and guitar), grandma (guitar and mandolin), dad (banjo, guitar, and mandolin), mom (bass), and Uncle Toad (Roger) (guitar). They played fiddle tunes and sang old favorites as well as what they liked from the radio. They never really labeled their music other than Country and Western. Also during this time, contest fiddling became important to my grandparents. Grandpa started looking for contests in neighboring states and attending them. Over the years, he developed friendships with Amos Chase (Grantville, KS), Pete McMahan (Columbia, MO), Cyril Stinnett (Fillmore, MO), Dwight Lamb (Onawa, IA), Lucy Pierce (Kansas City, KS), and other fiddlers from all over.
From the moment I was conceived, this music was in my ears. Since we lived out in the country, making music was a prominent pastime. Around the age of 3, I had asked my parents for a fiddle. Since my grandma played a little mandolin, she taught herself enough of the fiddle to get me started. My grandma's lesson in chords was something that I remember from a young age, and even though I had no idea which chords I was playing, I now understand finger complements from her little lessons. Grandma would go on and keep learning tunes and eventually competed in several ladies divisions at contests and placed in a few of them. When I was 8, my family traveled to Graham, MO, for a fiddling contest. I had never competed and only knew "Twinkle Twinkle Little Star" and "Mary Had a Little Lamb." There were two other junior contestants, so my grandparents signed me up. I was guaranteed third place, but I needed another tune. I will never forget Grandpa taking me out behind our camper and teaching me the third tune, "Go Tell Aunt Molly." It was the first of many tunes I would learn from him. That day, competing on the same stage as Pete McMahan, Amos Chase, Dwight Lamb… I took third place and received a trophy and 35 silver dollars. From that day on, my grandpa was my buddy and I spent as much time as I could to learn his music.
Around the age of 11, I beat my grandpa at a contest. He got 6th and I got 5th. He was so proud, of me and of course, I felt like I had achieved one of the greatest feats of all time. He asked our good friend who lived across the river to start teaching me tunes. His name was Amos Chase. Once a week, my dad would drive me to Grantville, Kansas, and I would spend the evening with Amos and Ruby. There were cookies and more complicated tunes. Amos never charged my dad, and he never called them lessons, he just said he was going to show me something.
In 1993, I graduated from college and moved to St. Louis. I hadn't been fiddling much but decided to travel to Yankton, SD, with my grandparents and dad for the fiddling contest. I had never competed in the open division but I know it was a great moment for my family to watch me compete that year and win first place. My grandpa was a man of few words but standing there next to him after winning, he said, "You did good." This was a pivotal moment in my life and it wasn't about winning the contest. A few months later, my grandpa, knowing he wasn't well, took a long walk. It was December 4th, 1993, and my dad and uncle found him out on the land where he had spent his entire life. Shortly after his death, my grandma gave me his fiddle and I have been playing it ever since.