The Field Recorders' Collective, Inc. is a non-profit organization dedicated to the preservation and distribution of noncommercial recordings of traditional American music, emphasizing material that is unavailable to the general public.
Read about FRC in the Register-Herald (Beckley, WV):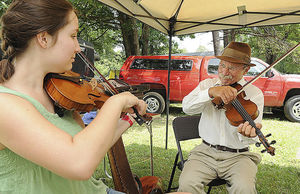 If no one steps up to preserve our culture, it could be lost forever. That's where the Field Recorders' Collective comes in. Stationed at a booth at the Appalachian String Band Festival in Clifftop, Dave Hall and Ambrose Verdibello are selling CDs of artists that you've probably never heard of. These are 'the old-time masters,' though, as the duo put it. More>>
New Releases for 2015
"All things pass; all that lives must die.  All that we prize is but lent to us, and the time comes when we must surrender it.  We are travelers on the same road that leads to the same end."
The Field Recorders' Collective, originally formed with five collectors, is now a much larger group of collectors who have generously agreed to share their field recordings with the old time community.  The collectors and the musicians that they recorded have traveled parts of the same old time music road.  Members of the collective, just as did the musicians they recorded, wish to share both the tunes and the creative, individual styles that developed in isolated communities with others seeking their own right of way on the road.
Many of the musicians featured on the FRC's CDs have been heard only sparingly on commercially-released recordings, and very few of these actual performances have previously been available commercially.  Most of the musicians recorded by the collective have passed on, and in many cases we are in touch with their surviving relatives.  We take satisfaction in sharing with the artists' families (as well as with the collectors) a portion of the profit from the sale of these recordings.  Judging from the letters of appreciation that we receive from family members, both the profit-sharing and our commitment to honoring these musicians' artistry are greatly appreciated.